"Now You Have to Go the Extra Mile to Get Noticed"- Shroud Advises Aspiring Creators on Twitch Streaming
Published 03/17/2021, 2:47 PM EDT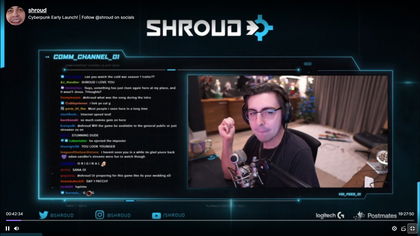 ---
---
Micheal Grzesiek, better known by his gaming alias 'Shroud' is a former member of Complexity and Cloud 9's professional CS: GO team turned streamer. Shroud began streaming on YouTube when he was seventeen. Despite enjoying a brief stint on Mixer during 2019, Twitch has always been Shroud's home.
ADVERTISEMENT
Article continues below this ad
Grzesiek rose to fame due to his superhuman aim in FPS games and his chilled streams. Despite gathering a large number of followers from his professional CS: GO days, Shroud had to work tirelessly to build his fanbase.
Recently, on his stream, Shroud gave up-and-coming streamers some words of wisdom. According to him, "Now you have to go the extra mile to get noticed."
ADVERTISEMENT
Article continues below this ad
This is obviously a very valid point due to the amount of competition when it comes to growing as a streamer for big games such as Fortnite, Fifa 21, and Call of Duty. He further added that just streaming for long hours doesn't work anymore. He stressed the importance of finding a niche in the market and expanding from there.
Shroud gave the example of Elder Scrolls. He described it as a game with a massive player base, but not many streamers and content creators play it. So there are untapped niches out there that can help budding content creators to prosper in this business.
Shroud has been in the streaming game for almost 10 years now. Thus, when he's giving advice, he has tons of first-hand experiences to back it up.
Shroud has showcased his eagerness to see smaller content creators before. He has done this through large Twitch donations, driving subscribers to their channel through raids, and donating subs.
ADVERTISEMENT
Article continues below this ad
Recently, Shroud attempted to drive viewers to RaidedEpicz's Twitch channel by raiding it. However, when he attempted to enter the stream, he received a notification saying, "Sorry, you have more viewers than the maximum currently supported by raids right now."
Regardless, Shroud took it in stride and urged his fans to raid some of the smaller streamers that he'd named.
What do you think about Shroud's suggestions for up-and-coming content creators? Let us know in the comments down below.
ADVERTISEMENT
Article continues below this ad