NRG Fortnite Pros Bid Goodbye To Their House
Published 09/04/2020, 12:32 PM EDT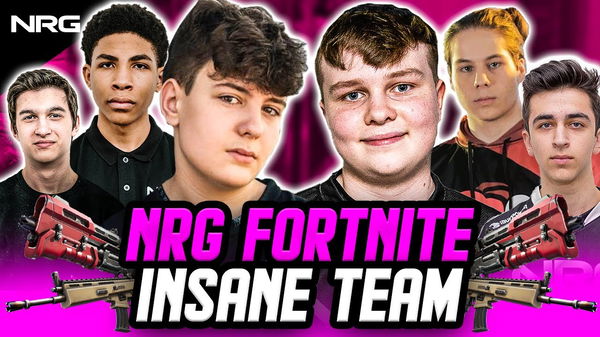 ---
---
NRG Fortnite Pros recently unveiled their content house to the world. Cody "Clix" Conrod, Dominick "Unknown" Green, Ben "Edgey" Peterson, and Ronald "Ronaldo" Mach form the current in-house team. Grady Rains, supervising the content, knows how to keep these boys in line. Nevertheless, it looks like their first season in the new house is soon to come to an end.
ADVERTISEMENT
Article continues below this ad
On 20th August, they announced their arrival at their new home. Following which we got to know more about these young pros through NRG's Youtube Videos. The content house was doing a good job with this new plan.
The good thing about these pros is that they are young – they can choose to be pros or get into content creation. The entire goal of NRG is to maximize their potential and push them towards what is best. All four of these players are fiercely talented when it comes to Fortnite.
ADVERTISEMENT
Article continues below this ad
However, recently three of the in-house players dropped a cryptic tweet about leaving the NRG house.
NRG Fortnite Pros tweet about leaving their content house
It started when Ronaldo tweeted about Unknown leaving the house without saying goodbye. This was followed by another tweet from Ronaldo bidding adieu to their house. Soon after this, Clix tweeted out a thank you note breaking the news that he is leaving the house. 
Officially leaving the NRG house, can say it was a blast and the best 3 weeks I've had. I apprecaite all the time put into it by the nrg boys and can't wait for the next one!

— Clix (@ClixHimself) September 3, 2020
A series of tweets got the fans worried that these Fortnite pros might be leaving NRG. However, there is no need to fret. As Grady Rains explained in the video, there will be different seasons. What NRG is trying to do content-wise is quite different from what anyone has done before. 
Just left the NRG house, thankyou to @NRGbikeage, @GradyRains and @amiller for putting it all together, really dope experience and excited for the future, blessed to be in the position I'm in right now. Thankyou to everyone supporting me also 🖤

— NRG Ronaldo (@StableRonaldo) September 3, 2020
Thus, it is safe to assume that these players are simply moving to a new house. Perhaps this time, a bigger one.
ADVERTISEMENT
Article continues below this ad
Read more – Fortnite: Best Weapons in New Season 4 Meta
NRG youngsters steering ahead with content
During their stay in the house, the greatest emphasis was given on the friendship between the boys. Even through the rivalry portrayed between Clix and Unknown, it was quite clear that it is for content purposes.
ADVERTISEMENT
Article continues below this ad
Now, they are learning how to be subtle in front of the camera. Thus, it is a win-win situation for NRG where both the content and competitive side coalesce. They are also super competitive with each other, which only helps them become better than themselves.
Hopefully, in the new house, we will also get to see BenjyFishy and Zayt.