Oakland Raiders' Antonio Brown Reportedly Warns NFL over New Mandated Helmets
Published 08/12/2019, 7:34 AM EDT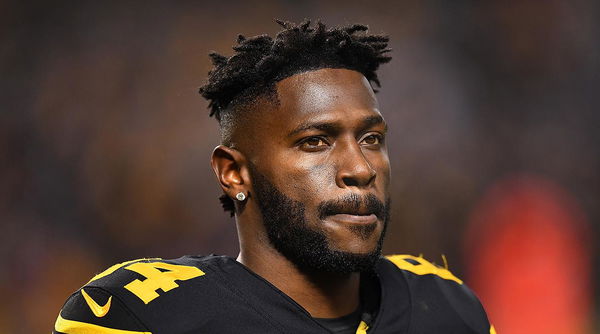 Oakland Raiders wide receiver Antonio Brown reportedly warned the NFL that he would hold the league liable if he suffers a head injury while wearing the new helmet that the NFL had recently made mandatory to wear.
Sources in the know told The Athletic that Brown dislikes the idea of the new helmets.
"And I think it'll be interesting if the NFL forces Antonio to wear a different helmet," a source told The Athletic. "And he does play and he doesn't retire as some people have reported he will do. And then he suffers a really severe injury. I'd hate to be the NFL. Because now you've forced him into wearing a different type of helmet. And I think at that point, though, the liability will be dramatic."
ADVERTISEMENT
Article continues below this ad
The ESPN also reported that the Raider's wide receiver wanted to use an older model of helmet- a model which is no longer approved under the NFL rules.
As per various reports, Brown filed a grievance to continue using the helmet he wore his entire career with the Pittsburgh Steelers. But the NFL will not permit use of the helmet which is now a discontinued model, because it is no longer certified by the National Operating Committee for Standards and Athletic Equipment (NOCSAE). During the off season, the NFL and NFLPA added 11 helmets to their joint list of approved equipment for this season while eliminating a grace period for other models that have fallen short in laboratory testing. By the end of last season, the NFL said 32 players were wearing helmets that now are banned.
Per the NFL and NFLPA, about 50% of players upgraded to better-performing helmets after last year's poster was issued, reflecting performance in lab testing. Here's the new poster for 2019, including 11 prohibited models: pic.twitter.com/iPjJRwU36Y

— Tom Pelissero (@TomPelissero) April 12, 2019
Brown has been using the same model helmet for nine years now, and he wants to continue using it. The persistence of Brown to use the same model despite it being not allowed has also led to frustration among his coaches and teammates, one of whom was quoted saying, "honestly the most insane thing I have ever heard. I don't know why it's so important to him. It doesn't make any sense."
ADVERTISEMENT
Article continues below this ad
According to NFL.com's Mike Silver, "helmet cannot be re-certified because it is more than 10 years."
The NFL reports also suggested that any player using the banned helmets would open himself for a disciplinary action.
"On a conference call with reporters earlier this spring, Jeff Miller, the NFL's executive vice president of health and safety initiatives, said that any team found to have known about a player wearing a banned helmet or to have facilitated the use of one would be subject to league discipline," the report said.
ADVERTISEMENT
Article continues below this ad
Antonio Brown hasn't participated in the Oakland Raider's practice session since July 10, with the latest reason for his absence being frostbite. The absence, though not fully clear, is bound have some reference to the new helmet rule.
In the previous season, Brown completed 10,000 career receiving yards in the opening game, becoming the second fastest NFL player to achieve the milestone, behind Calvin Johnson. He enjoyed a good season in 2018 with with 104 receptions for 1,297, and a career-high 15 touchdown, before being drafted into the Raiders' side in 2019.