"Obsessed With Some F**king Spanish Tennis Player": Nick Kyrgios Rants at Rafael Nadal Fan
Published 04/22/2021, 9:03 AM EDT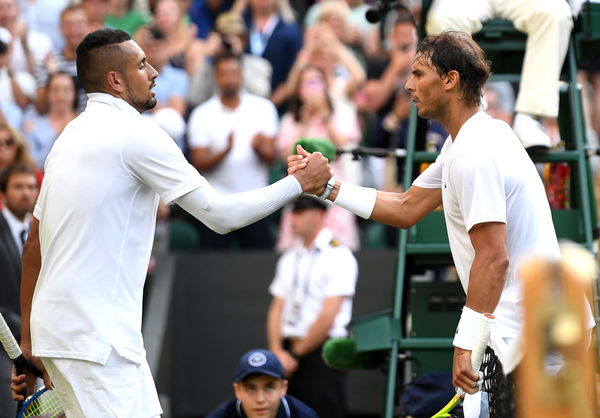 ---
---
Nick Kyrgios has always been a controversial figure on the ATP Tour. He has been a standalone player on the tour with his own ideas and conversations. The Australian has already drawn flak for not playing much tennis since the tour restarted after the pandemic break.
ADVERTISEMENT
Article continues below this ad
The player openly has admitted to having other priorities over tennis. He is a live streamer on Twitch and recently lost his cool on a Rafael Nadal fan and said some unpleasant things.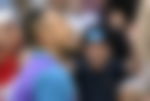 Kyrgios regularly plays Call of Duty: Warzone and streams it on his Twitch account. Recently, while playing, Kyrgios saw a comment from a fan whose username had Rafael Nadal. Kyrgios didn't read the comment but instead was infuriated by it.
ADVERTISEMENT
Article continues below this ad
Thus, in his anger, he called out the fan and hurled a few unpleasant words while streaming live.
"Someones just f**king commenting weird shit, he is a Rafa fan. He is f**king obsessed with some f**king Spanish tennis player."
The unpleasant history between Rafael Nadal and Nick Kyrgios
Kyrgios ranting at a fan is far from a surprise given he does not shy away from confrontation. But in the past, he also has had troubles with Rafa Nadal. They have had a feud since their Acapulco clash in 2019, when in the final, Nadal had called out Kyrgios for a lack of respect.
But the Australian then lashed out at Nadal, "He doesn't know the journey I've been through, he doesn't know anything about me so I'm not going to listen at all."
ADVERTISEMENT
Article continues below this ad
But then next in Wimbledon 2019 he admitted that he did try to hit a forehand straight at Nadal during their clash at the championships the same year. "I wanted to hit him square in the chest. Why would I apologize? Dude's got how many Slams? How much money in the bank account? I think he can take a ball to the chest."
It is a known fact that Kyrgios won't be returning to tennis soon. The exact reason why he is not playing a lot of matches is to be associated with the ongoing pandemic. He has been very critical of tennis during the current troublesome time of the coronavirus pandemic. Kyrgios has preferred not to travel during this time.
Untilk he returns to the courts, though, we can expect him to continue streaming.
ADVERTISEMENT
Article continues below this ad