Odell Beckham Jr. Fined 14K for Wearing Pants that do not Cover Knees
Published 10/24/2019, 6:58 AM EDT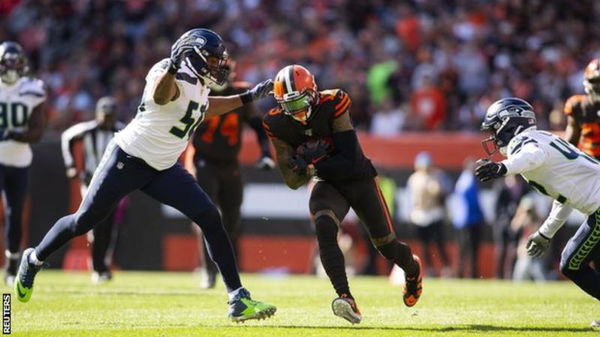 ---
---
If you asked to look at the image above and find anything wrong, you might hardly find anything. Even if you are told that Odell Beckham Jr., running with the ball, has something odd about him for which he was fined by the National Football League (NFL), it is difficult to imagine anything wrong with it. There does not seem to be anything wrong with it, right? Yet, he was fined an amount of $14,037.
ADVERTISEMENT
Article continues below this ad
A small part of his legs were visible between the pants and socks, which is the very reason why he was fined such an amount. Now, many might understand why Beckham Jr. showed his frustration on Instagram.
The 26-year-old has been fined $14,037 for "uniform violation" in Cleveland's 32-28 defeat against Seattle Seahawks on October 13.
ADVERTISEMENT
Article continues below this ad
"14k for some pants that are not gonna protect me from anything," he was quoted as saying by BBC.
ADVERTISEMENT
Article continues below this ad

NFL rules state "pants must be worn over the entire knee area". The NFL says uniform rules help to "protect players from injury, maintain competitive balance, create a professional appearance and protect the league's business partnerships".
Pants "shortened or rolled up to meet the stockings above the knee" are prohibited.
This is not the first time that Beckham has been fined in his career. In fact, he has already been fined once earlier this month for his "unsportsmanlike conduct" in an on-field fight with Baltimore Ravens cornerback Marlon Humphrey.
ADVERTISEMENT
Article continues below this ad
Back in 2016, he was fined $18,231 (£14,089) for a uniform violation. Overall, it is the 13th time in his career that the 26-year old has been fined.
After being fined this time, he posted a letter received from the NFL on his Instagram story, adding: "This […] is ridiculous." It might remind you of Antonio Brown, who had posted a similar letter showing his dissatisfaction on the league, which eventually led to him leaving the club.