Allyson Felix Reveals Quote That Helped Her Return From A Career Ending Situation For Tokyo Olympics 2020
Published 08/18/2021, 12:35 PM EDT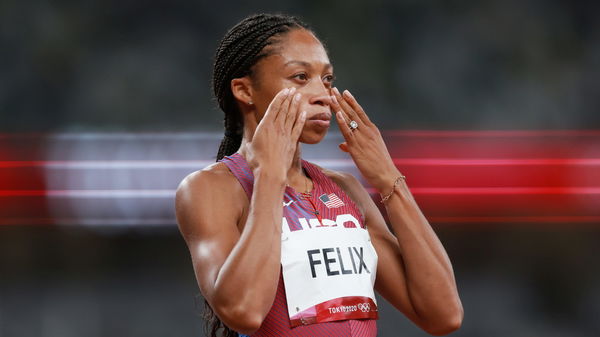 ---
---
After a historic showcase of her talent at the Tokyo Olympics, Allyson Felix talks about a quote that got her through some challenging times.
ADVERTISEMENT
Article continues below this ad
The Olympian, Felix's achievements, provide motivation to thousands of people all across the globe. She's the proud owner of 11 Olympic medals. Furthermore, after her incredible win at Tokyo Olympics, she is now the most decorated U.S. track athlete in Olympic history. Felix bagged a gold medal in the 4×400 meters relay and a bronze in 400 meters.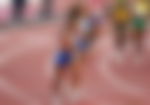 Allyson Felix is all about inspiration 
ADVERTISEMENT
Article continues below this ad
Ever since she launched her own shoe brand, Saysh, Allyson has become a role model for innumerable athletes, especially women. Indeed, her idea of producing shoes by women and for women is remarkable.
In addition to this, the Olympic champion is a proud mother of a two-year-old daughter, Camryn. In a recent interview with CNN, she even talked about how she would want her daughter to also seek inspiration from her career.
WATCH STORY- "Open Those Doors, Mama": Husband Alexis Ohanian Reacts to Serena Williams' Revolutionary Collaboration With Nike.
Allyson said, "Yeah, there is so much I want to explain to her and tell her about the past couple of years of overcoming all this adversity. But the big thing is standing up when something is not right. Know your worth and value and do things with character and integrity and I hope she can see that through my life and I can kind of give her those tools to navigate the world. But, that's the biggest lesson I want her to learn".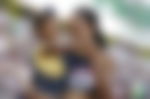 ADVERTISEMENT
Article continues below this ad
Felix had to face challenges on her road to success
She underwent a nine-month-long hiatus in 2014 because of a hamstring injury. In addition to that, she maintained significant ligament tears after dropping from a pull-up bar in 2016. Further, she was forced to undergo an emergency C-section in 2018 after being diagnosed with severe pre-eclampsia during pregnancy with her daughter child Camryn. After emerging from these traumatic experiences, Felix wrapped up her professional relationship with her then-sponsor Nike. Consequently, she publicly shared her disappointment regarding how unfair it is for the female athletes to get paid lesser after they become a mother.
Regardless of whatever life threw at her, she took it in her stride and kept moving on. She started preparing for the Tokyo 2020 Olympics and ended up emerging victorious.
What kept Allyson Felix so motivated?
"I think I was just in the spirit of fighting. I had been through so much adversity in my career coming after the birth of my daughter, contract-wise, and the literal fight for my health and my daughter's health. So, when the pandemic hit and then there was the news of the 2020 Olympics being postponed, I was already in this mindset of, 'there is so much to overcome that this is just another thing'," said Felix.
Recently, Allyson posted a quote on her Instagram.
Passing the baton of her motivation to others, she is definitely a legend to look up to. We can't wait for her to keep inspiring young athletes and revolutionizing the world of sports with her passion and talent.
ADVERTISEMENT
Article continues below this ad