Who is the Greatest Diver of All Time in the Olympics?
Published 06/29/2021, 10:34 AM EDT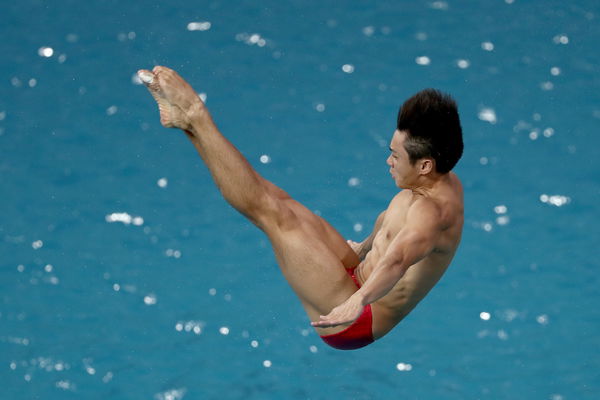 ---
---
Diving. This word has many interpretations. But when it comes to the Olympics, there is only one art form. Athletes jump from a platform or a springboard and perform acrobatic moves before landing into the water. This sport has featured in the Olympics ever since 1904. There have been plenty of athletes who've dominated over the years, but who is the greatest of them all? 
ADVERTISEMENT
Article continues below this ad
Before we jump in, it is essential to figure out the respective disciplines when it comes to Olympic diving. The sport initially started out as a competition where the diver who reaches the maximum depth in a swimming pool wins. However, the format changed over the years. 
The upcoming Tokyo Olympics 2021 will feature eight competitions in diving. It will be split evenly among men and women. Here are the events: 
ADVERTISEMENT
Article continues below this ad
3m springboard 
10m platform
Synchronized 3m springboard
Synchronized 10m springboard
Now we know the events when it comes to diving. So who is considered the GOAT in this sport? 
The greatest Olympian in diving
There are a lot of divers who've made a positive impact in the Olympics. It would be unfair to pick out just one athlete and name him/her as the GOAT of this sport. Hence, we're naming one male and one female athlete who dominated with their medal tally at the Olympics. 
Greg Louganis
Greg Louganis is a legend of the sport. He holds the record for the most Olympic medals won by a men's diver. Louganis won five Olympic medals (four golds and one silver) between the 1976 and 1988 Olympics. 
Louganis won gold at the 3m springboard and 10m platform in subsequent fashion. He won two medals in the 1984 Olympic Games in Los Angeles and repeated the same performance at the 1988 games in Seoul.
Wu Minxia
ADVERTISEMENT
Article continues below this ad
Wu Minxia is the greatest Olympic diver ever. She has won the most medals in this sport at the Summer Games. Minxia has seven Olympic gold medals in her cabinet, all won between 2004-2016. That is incredible longevity! 
Minxia won maximum medals in the 3m synchronized diving and has five golds, one silver, and one bronze medal in her Olympic resume. Is she the GOAT of diving?
ADVERTISEMENT
Article continues below this ad