Tokyo Olympics 2021: USA Hammer Throw Record Broken as Rudy Winkler Stuns Everyone
Published 06/23/2021, 7:05 AM EDT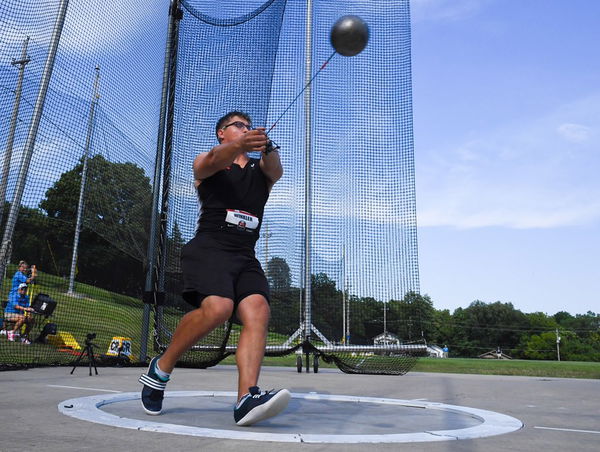 ---
---
Team USA has brought up some new names into its competition list, and all of these athletes are ready to write their names along with the legends they are up watching. One such man we now have to keep an eye out for is Rudy Winkler, who just broke the country's record for Hammer Throw at the Olympic Trials.
ADVERTISEMENT
Article continues below this ad
Winkler threw a staggering 82.71 metres (271 ft, 4 in) on what was his seance attempt. This throw broke the original record set by Lance Deal 25 years ago at 82.52 metres (270 ft, 9 in). Furthermore, Deal was present to witness Winkler make history as he was standing near the throwing area at Hayward Field, where the Trials are being held.
ADVERTISEMENT
Article continues below this ad
Rudy Winkler is set to make history at the Olympics
The moment stunned the crowd as it signified the first real hope for USA in a sport that has evaded it for years if not decades. The last ever medallist USA had in the event was Lance Deal himself, 25 years ago. 
"Lance was probably the second or third person I talked to immediately after the throw," Winkler said. "He immediately said, 'I'm so proud of you' and 'Keep it going.' I'm really happy he was here and he was proud of me. That's awesome."
Winkler's entire series was well accounted for. He managed to make all his attempts cross the 80 metres mark, a feat which would have won him the competition itself. 
"It's a bit unbelievable. If you saw me during the competition, I would walk out of the circle after throwing 80 (meters) and was saying, 'This is crazy.' It felt effortless and it was good to be able to do it repeatedly," he said. (via Team USA)
USA hopes for multiple medals in Hammer Throw at the Tokyo Olympics 2021
Winkler is joined by capable teammates in Daniel Haugh and Alex Young who are ranked at No.5 and No. 10 in the world. They both crossed their personal bests to qualify for the Tokyo Olympics for the first time. 
ADVERTISEMENT
Article continues below this ad
There eis real hope for Rudy Winkler and the American team in Hammer Throw. No fellow countryman has won a medal in that sport since Deal and it has been 97 long years since two Americans received medals at the event. 
"I think I was more prepared for this than I've ever been for anything in my entire life," Winkler said, with an air of confidence about him. The final hammer is yet to be thrown and all eyes will be on Rudy Winkler and his teammates as they head to Tokyo for the Olympics. 
ADVERTISEMENT
Article continues below this ad