WOW! How an Olympic Silver Medalist Has Taken the Fashion Industry by Storm
Published 07/16/2021, 11:04 AM EDT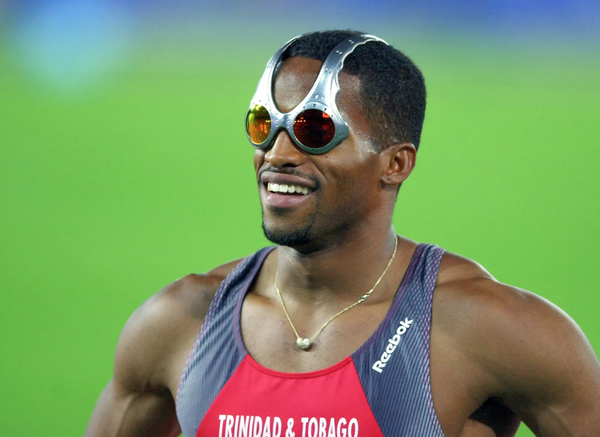 ---
---
Trinidadian athlete Ato Boldon headed over to Sydney to compete for the Olympics in 2000 and earned himself a Silver medal in the 100m race. He lost out to Maurice Green in what was a very close race. While it is a popular notion that nobody remembers second place, Boldon is the rare exception that has been remembered more than most other Olympians at the entire event. 
ADVERTISEMENT
Article continues below this ad
The reason for this is that on the tracks, all athletes wore their regular apparel as did Boldon himself. Only, he had something very peculiar on his head that drew the attention of everyone seated in the stadium. The Trinidadian sported glasses- silver, reflective, and with deep red lenses. 
ADVERTISEMENT
Article continues below this ad
Apart from this, rather than resting on the ears like most glasses, these went on top and over his head. Immediately resembling something on the likes of Marvel's Antman, commentators were quick to describe the headgear as "space-age eyewear."
Following the event, fans quickly searched for these sunglasses and identified Oakley as the brand that made them. Oakley aptly named the product OVERTHETOP, describing exactly what they were. 
"Oakley was a fun company to be associated with because they were always trying to push the envelope, get stares, and get people to think differently about what eyewear could look like," Ato Boldon was quoted saying by Liana Satenstein of Vogue. 
"They aren't mainstream, but that is kind of the point. A car company will build typical cars for their normal consumers and then they'll build a prototype to show what they can do," Boldon explained. "This was Oakley was showing a glimpse of what they can do."
Ato Boldon and OVERTHETOP are still seen on social media today
This effective strategy not only boosted interest in the product but also made Ato Boldon a timeless fashion icon. 21 years on and the OVERTHETOPs are still sought after by many fashion aficionados. Although the originals were given away to the athlete's cousin and uncle, the innovative sunglasses and where to get them is still talked about today.
"It has been 21 years and every day on my social media I see a picture of myself [wearing them]," Boldon revealed. However, for him it's not about the product but about the person who fearlessly wears them
ADVERTISEMENT
Article continues below this ad
"You have to be confident," he stressed. "It's not like someone is going to put them on to go to soccer practice, they command attention."
It does take a strong mind to sport something many would criticize. However, the decision to wear the OVERTHETOP at the Olympics paid off and over two decades down the line, some argue that it's still ahead of its time.
ADVERTISEMENT
Article continues below this ad