BREAKING: USA Gymnastics Confirms Huge News- Simone Biles to Return to the Tokyo Olympics 2020 Beam Finals on Tuesday
Published 08/02/2021, 5:34 AM EDT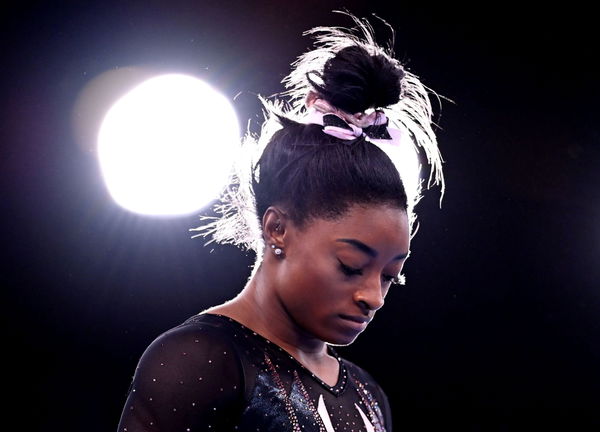 ---
---
After a turbulent week, US gymnast Simone Biles will return to competition at the Tokyo Olympics 2020. The six-time Olympic medalist withdrew from the US team event and the all around event. But at the women's balance beam event, Biles will compete alongside Sunisa Lee.
ADVERTISEMENT
Article continues below this ad
Splendid news for Team USA as Simone Biles returns
After becoming an active advocate for mental health all across the world, the world's most popular gymnast will return to competition. Her withdrawal from the team event and the all-around event sparked an entire conversation on mental health in the sports field.
ADVERTISEMENT
Article continues below this ad
According to Biles, a case of the 'Twisties' led to her withdrawal. While we waited with bated breath for an explanation, the gymnastics world understood. However, she received unconditional love and support from her fans and supporters worldwide. The love did not come without the backlash though, since people like Piers Morgan labeled her actions as weak.
We are so excited to confirm that you will see two U.S. athletes in the balance beam final tomorrow – Suni Lee AND Simone Biles!! Can't wait to watch you both!

— USA Gymnastics (@USAGym) August 2, 2021
But today, USA Gymnastics announced the glorious news that the four-time gold medalist will return to competition. Alongside Tokyo Olympics 2020 women's all around gold medalist and teammate Sunisa Lee, Biles will gun for her first gold medal at the Olympics. Having won the team silver without competing, we're sure the gold will taste much sweeter.
This will be Simone Biles' last attempt at winning a gold at this year's Olympics. Although she's been the most talked about athlete at the Tokyo Olympics, even more than swimming sensations Caleb Dressel and Katie Ledecky, she hasn't added enough gold to her tally. Mental health and 'Twisties' aside, Biles knows what she's about: winning.
Biles' replacement clinches silver at the Tokyo Olympics 2020
ADVERTISEMENT
Article continues below this ad
Bumped up to the finals of the gymnastics vault final, USA's Mykayla Skinner took home silver. She becomes the second member of team USA to benefit from Simone Biles' withdrawal. However, the former gold medalist wasn't salty and congratulated Skinner on her epic achievement.
Skinner told reporters after her silver medal win Biles would mostly return to compete at the beam event. Her statement came true as we will witness one of the best athletes in the world compete to take home at least one gold medal.
ADVERTISEMENT
Article continues below this ad
However, her competition at the event is her own teammate. Building of her incredible all-around gold medal, Sunisa Lee will try to shut down Biles in an attempt to clinch her third medal at the Tokyo Olympics 2020.