DeAnna Price Shatters Multiple Hammer-Throw Records Ahead of Tokyo Olympics 2021
Published 06/27/2021, 8:45 AM EDT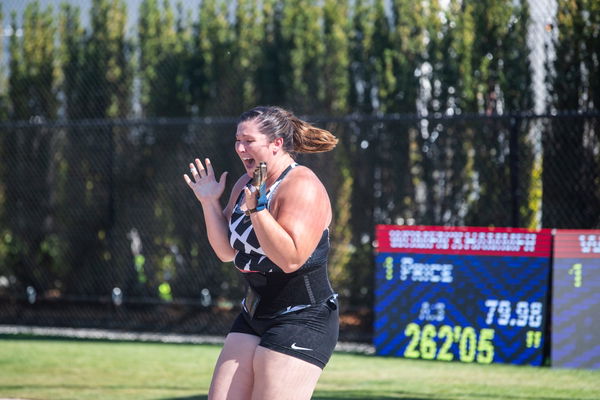 ---
---
The USA Olympic Trials have unveiled a lineup of new stars that will shadow the legends of the past as they head on to Tokyo. While track records are being shattered, DeAnna  Price did one better and toppled over multiple records in her tries at the Women's Hammer Throw finals!
ADVERTISEMENT
Article continues below this ad
The reigning World Champion came in ready to qualify for the team. However, she more than just qualified. On her first throw, Price managed to throw a massive 77.82, which immediately became a new meet record. This throw broke her own record which stood at 77.10.
ADVERTISEMENT
Article continues below this ad
She broke this new record as well on her second throw, which reached 78.51. In her third throw, she threw a motivated 79.98 which shattered her own American record set in April this year, which stood at 78.60.
After a foul in her 4th attempt, DeAnna  Price walked into a final throw, ambitious and determined to pull off a screamer. Motivated by the earlier hauls, she flung her final attempt that broke her through to new heights. 
Landing at 80.31-meters, the throw made price only the second woman in the history of the sport to cross the 80m mark with the 4 Kg (8.8-pound) ball-and-chain. She is only behind Poland's Anita Włodarczyk who holds the world record at 82.98.
"I don't even know what my final mark was," Price said, in a post-race interview. "I only saw 8-0 [on the scoreboard]. I was like, 'I threw over 80 meters!' It's insane."
DeAnna Price aims to crush the all-time record
Price put on such a dominant display, that even her shortest throw on the first attempt was higher than the other two places, held by Brooke Anderson (77.72) and Gwen Berry (73.50).
With the Tokyo Olympics coming in hot and being the favorite to win the event, Price not only eyes the gold medal but also the insurmountable record. 
ADVERTISEMENT
Article continues below this ad
"It is on my whiteboard. It is definitely in the sights," she admitted. "Today it didn't even feel like a really good throw, and that's where it kinda gets crazy when you know there's more in the tank."
Włodarczyk will be hard to get to given that she holds 18 out of the sport's 20 longest throws. But DeAnna Price is ready to throw the record away. Ranking at 7th on the all-time list, she is ready to seize her moment soon. 
ADVERTISEMENT
Article continues below this ad
Trending Stories