'Endless Gratitude'- Jessica Springsteen Reacts to Tokyo Olympics 2021 Qualification
Published 07/10/2021, 2:30 AM EDT
---
---
Jessica Springsteen will blaze a trail through the Tokyo Olympics 2021 in the show jumping event. She makes her Olympics debut this year, and she's one of the most popular newcomers to the Games. She took to social media to let her fans know how she feels about this amazing accomplishment.
ADVERTISEMENT
Article continues below this ad
Jessica Springsteen lives up to her legendary family name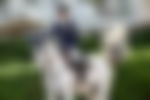 The daughter of American music icon Bruce Springsteen; Jessica has lived up to her legendary name by qualifying for the Olympics. She is the only debutante on the show jumping team. Alongside former medalists Kent Farrington, Laura Kraut and McLain Ward, Springsteen will have to put on a wonderful performance to impress global audiences.
ADVERTISEMENT
Article continues below this ad
Although the pressure on her shoulders is huge, Springsteen is proud of her accomplishment. She took to Instagram to let her fans know about the emotions she felt upon Olympic qualification. She wrote, "Been dreaming of this since I can remember! Endless gratitude for my team, friends and family for helping me make this a reality. We are Tokyo bound!!"
Having trained with fellow team member Laura Kraut, Stacie and Frank Madden, she's become one of the fastest rising stars in the sport. Her notable rise to the top has a slice of luck to it. The withdrawal of Beezie Madden made Springsteen the next favorite show jumper to fill the vacancy.
Despite that analysis, the 29-year-old Springsteen would be a fitting replacement to the 57-year-old Madden. The lack of experience will be a factor, but the gusto she brings to every performance will make her a star. Tokyo Olympics 2021 has received its next celebrity athlete, but will she escape with a medal?
Three former medalists to lead Springsteen in Tokyo
ADVERTISEMENT
Article continues below this ad
If the spotlight is on Jessica Springsteen for her name and fame, her teammates have the insurmountable task on delivering on their behalf too. Fortunately, the three remaining members of the team are some of the best in the sport.
Ranked world #5, Kent Farrington is more than just an experienced show jumper. Winning silver in the team jumping event at  2012 London Olympics, Farrington will look to add another medal to his collection. His teammate in 2012 and now 2021, McLain Ward is the most decorated member of this squad. With two gold and one silver, she will look to rise higher than her current #10 ranking.
Finally, the last member of the squad is Springsteen's former trainer and gold medalist, Laura Kraut. Alongside McLain Ward, Kraut won gold at the team jumping event at the 2008 Beijing Olympics. With a team like this, the pressure on Springsteen's shoulders lightens, but the chances of winning gold grow larger.
ADVERTISEMENT
Article continues below this ad