From Getting Kicked Out of School to Tokyo Olympics Silver Medal – The Rise and Rise of Ben Whittaker
Published 08/06/2021, 10:47 AM EDT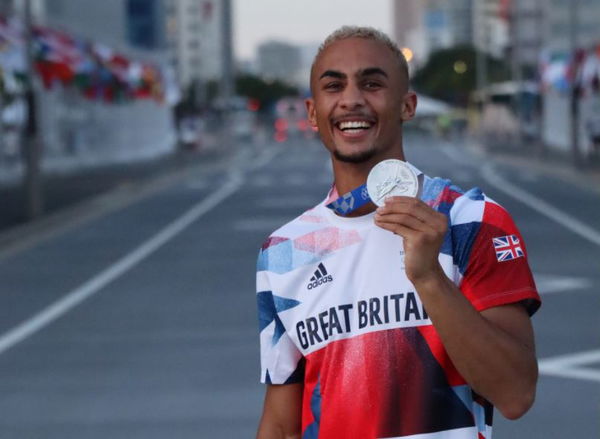 ---
---
English amateur boxer, Ben Whittaker, made headlines earlier this week after winning silver in the men's light heavyweight boxing final at the Kokugikan arena. He was beaten by 2016 Rio champion Arlen Lopez of Cuba. But Whittaker's reluctance to put on the silver medal while on the podium is what became a topic of hot debate.
ADVERTISEMENT
Article continues below this ad
The West Bromwich-born boxer later apologized for his actions as he admitted that he should have acted differently.
"I was doing it for everybody at home and I felt like a failure. At the time, I should have put this beautiful silver medal around my neck and smiled because this is not just for me, it's for the country."
ADVERTISEMENT
Article continues below this ad
"Please accept that I wasn't trying to be disrespectful to anyone. I wasn't trying to take the shine away from Arlen's moment, but it hurt me so deep, and I felt so embarrassed. I will look back on it later and think 'what was I doing?' When I look back in a few years, it will probably feel like a great achievement, but I was so upset that I couldn't enjoy it," Whittaker told reporters after the match.
Ben Whittaker opens up on his struggles after Tokyo Olympics 2020 triumph
ADVERTISEMENT
Article continues below this ad
The amateur boxing sensation made his first appearance on the global stage at the 2018 Gold Coast Commonwealth Games. He represented Team Great Britain at the games but failed to finish on the podium. You could say that is what moved him to up the ante and improve his displays while representing his nation.
Whittaker earlier revealed that he suffered from ADHD. He faced numerous struggles during his teenage years and in school.
"I was fighting in local shows in a pub or social club. I was so unfit. I never used to train. In truth, I hated it – who wants to get punched in the face? But I was very talented, winning fights off that alone. I thought: 'If I do get up and run, and spar more than once a month, I can do something.' I wanted to show the school that said I'll amount to nothing," via Yahoo! News.
ADVERTISEMENT
Article continues below this ad
Despite his initial disappointment, it's clear that Whittaker is content with his displays in Tokyo. There's no way to go but up for the starry-eyed youngster. Keep an eye out for the lad from the West Midlands!