Gabrielle Thomas Qualifies for Tokyo Olympics 2021 200m While Studying for Her Masters Degree
Published 06/27/2021, 2:18 PM EDT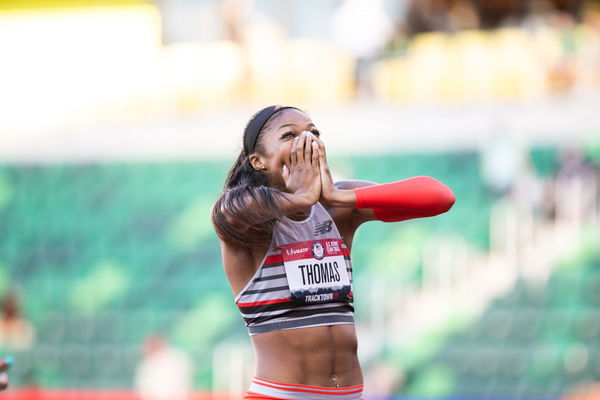 Gabrielle Thomas made sure she left her mark on the crucial day of the USA Olympic Track and Field Trials as she flew through the 200m finals to qualify for Tokyo. The 24-year-old bested heavy talents to not only read the finish line but race into the history books. 
ADVERTISEMENT
Article continues below this ad
The athlete clocked in at an insane 21.61 seconds, making a new Olympic trials record. The time registered was so quick that she also reached within breathing distance of legendary Olympic sprinter Florence Griffith Joyner. 
In fact, Thomas skipped over every one of the fastest women of all time to reach second place in the all-time list. This means that no one other than FloJo herself has clocked in a faster time than her in the history of the event!
ADVERTISEMENT
Article continues below this ad
Joyner, an undisputed legend in the 200m event, holds the record at 21.34 seconds. She made this time at the Olympic Games in Seoul 1988, winning the gold medal. While few have ever come close to this record, Gabrielle Thomas seems to be heading towards it. 
Gabrielle Thomas named Allyson Felix as her inspiration
Allyson Felix, also in the race, failed to qualify but already holds her name in the 400m and 4x400m relay events in Tokyo. She was running alongside a woman who looked up to her when she was young. 
"Allyson Felix was my biggest inspiration," Thomas said after the race. "She was the first person I remember watching on TV. Sitting at my granny's house, my mom told me to turn on the Olympic Trials because she saw someone who reminded her of me. That's the person who has been in the back of my head for so many years."
Gabrielle Thomas has a lot on her mind. A Harvard alum, she is currently studying towards a Master's degree in Epidemiology! Apart from her athletic career, she is also looking to delve into her own research someday.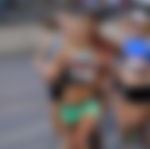 Thomas does not remember much from the race!
ADVERTISEMENT
Article continues below this ad
As for the record, she may just look to best it at the Tokyo Olympics. Racing on the tracks at such a high speed, she couldn't clearly remember where she was.
"I couldn't feel my legs, I couldn't think, I was blacking out," Thomas said. "I'm sure people are always capable of going faster; there had to be things to fix. I'm going to watch the videos over and over again, see what I did right, what I did wrong. As for me right now: perfect."
ADVERTISEMENT
Article continues below this ad
She is certainly a favorite to win Olympics Gold, having clocked the fastest time in 33 years. At just 24 years of age, Gabrielle Thomas not only looks at the Olympic gold but also chases FloJo's tracks; she certainly seems to be cutting the distance.