Grant Holloway Misses World Record by 1/100th of a Second Ahead of Tokyo Olympics 2021
Published 06/27/2021, 9:53 AM EDT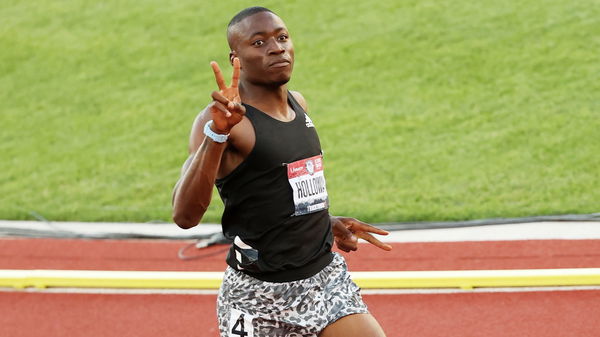 ---
---
Grant Holloway joined the long list of record-breakers this time at the Olympics Trials in the USA ahead of the main event in Tokyo. While Deanna Price and Erriyon Knighton stole the show with their groundbreaking milestones, Holloway displayed his strength in his own way. 
ADVERTISEMENT
Article continues below this ad
The 23-year-old athlete qualified for the Tokyo Olympics after clocking in at 12.96 in the 100m hurdles finals. The time earned him first place, followed by Devon Allen at 13.10 and Daniel Roberts at 13.11.
ADVERTISEMENT
Article continues below this ad
However, the highlight of the night was his performance in the semifinals. Breezing over the obstacles, Holloway clocked in at a career-best of 12.81. This was not only a new best for him, but was a splitting one-hundredth of a second shy of the all-time 100m Hurdles record of 12.80, set by Aries Merritt in 2012. 
Grant Holloway is focused only on Olympic Gold for now
Even though it fell short of the record, the timing was a new trial meet record and is the fastest in the world this year. This leaves Holloway in pole position to take the Olympic Gold in Tokyo. Heading towards his first edition of the hames, he has only the gold medal on his mind and not the record. 
"Everybody knows what my goal is," Holloway said in a post-race interview. "As long as [the medal is] a gold, it doesn't matter what the time is."
Grant Holloway has established himself as the king of his sport. He managed to win the 110m World Championship in hurdles in Doha 2019. He aims to add the Tokyo gold to his collection and hopes to do much more. 
Holloway believes he will eventually topple the record
Make no mistake, Holloway is no stranger to records. He currently holds the world record in the 60m hurdles event, which is held indoors. Undoubtedly, the 110m record is also something on the back of his mind. 
ADVERTISEMENT
Article continues below this ad
"We'll find out. I just think at this point it's definitely possible. … It's just executing at a very high level and figuring out ways to continue to get better," Holloway said.
ADVERTISEMENT
Article continues below this ad
The gold medal seems to be the priority for Grant Holloway and nothing else. Trying to make the fastest time can lead one to fumble and hurdles is a sport in which one mistake can cost you the entire race. For this reason, its one glory at a time for the American.