"I Don't Have Any Rivals"- USA 200m Favourite Noah Lyles Confident Ahead of Tokyo Olympics 2021
Published 07/10/2021, 10:01 AM EDT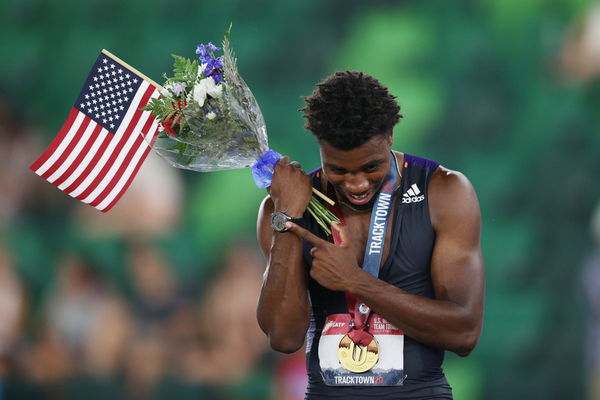 ---
---
Noah Lyles is the benchmark of speed and the athlete is brimming with confidence as we near closer to the Tokyo Olympics. Being the clear favorite for the 200m sprint event, Lyles aims for nothing short of the Gold medal. 
ADVERTISEMENT
Article continues below this ad
The track comes with its challenges and Lyles has dealt with his fair share of physical as well as mental obstacles. However, he has proved himself to be the fastest man out there in the event, and any challenger would consider him as their top rival. He, on the other hand, has his eyes set forwards on the tracks and nowhere else.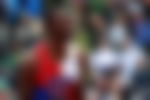 "I don't think about rivals a lot," Lyles said, speaking to The Guardian. "I mean, honestly, in my head, I don't have any rivals. Track and field is one of those sports where you need to focus on yourself and your own lane. For me, it's freeing."
ADVERTISEMENT
Article continues below this ad
Lyles managed to beat Erriyon Knighton in the 200m finals at the Olympic Trials. Clocking a world-leading 19.74 seconds, he outran Kenny Bednarek and Knighton, who many believe could be the next Usain Bolt.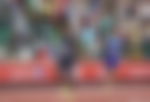 Noah Lyles claimed the 100m race is a lot more challenging than 200m
He attempted to qualify for the 100m sprint as well but fell short by a big distance. He placed 7th out of the 8 participants, only followed by Justin Gatlin who suffered an injury during the race. Highlighting the challenges of the 100m sprint, Lyles stressed that a lot more thought goes into it than the longer 200m sprint. 
"My mindset in the 100 is more towards being aggressive, fast, still loose, there's actually more thought in the 100, which is funny because it's a faster race," he joked. "Going for the 200, I have a few key words going on in my head throughout the race. 'Get out', 'stand tall', 'quick and stride', 'hold form', but compared to the 100, it's a lot different. There's a lot less thinking in the 200."
ADVERTISEMENT
Article continues below this ad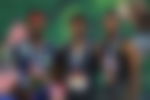 Lyles also explained how he had run the race in his head at least fifty times and pictured exactly what he was doing time and time again. One thing that will be missing from those repeats would be the presence of fans cheering him on. While that may sometimes be a huge motivator, the absence of fans may allow him to keep his head clear and execute his plans to perfection. 
In the case of Noah Lyles, the gold is pretty much waiting for him at the podium in Tokyo in his eyes.
ADVERTISEMENT
Article continues below this ad