"It's Not All About Me"- USA's Noah Lyles Believes His Bronze Medal at Tokyo Olympics 2020 Was a Divine Test
Published 08/07/2021, 12:16 PM EDT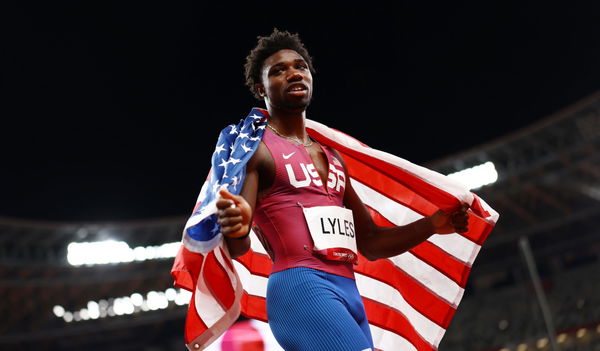 ---
---
Noah Lyles came into the Tokyo Olympics this year as the fastest man in the 200m and a favorite to bag the gold medal for the USA. However, the American was shocked by Andre De Grasse who aced to the finish line to win the gold, his first after years of being second-best to Usain Bolt. 
ADVERTISEMENT
Article continues below this ad
Lyles did not finish with silver, but bronze, beaten to second place by fellow American Kenny Bednarek. He did run fast and actually tied his season's best with 19.74 seconds but was outpaced by Bednarek, who set a new personal best at 19.68 seconds, and De Grasse, who set a national record of 19.62 seconds. 
While many assumed Noah Lyles would be disappointed in his performance, the runner firmly believes it was part of a bigger plan. "Maybe it wasn't my time. God said that you're affecting a lot of people and you don't have to win to affect those people," Lyles wrote in a tweet. "Maybe somebody else needs that light, Maybe De Grasse needs that light. It's not all about me. It would be selfish to think it's about me. Sometimes it's about other people."
ADVERTISEMENT
Article continues below this ad
Lyles is a man of God and has held religion close to his heart throughout the journey. Heading into the race, he looked poised to win but somehow, like Trayvon Bromell in the 100m event, could not find that top speed. 
As the commentators so rightfully put, the energy never came. although he headed out into the 200 finals leading the pack, Andre De Grasse quickly overtook him while Kenny Bednarek closed in the gap to steal second place.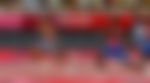 Noah Lyles made sure to praise 17-year-old Erriyon Knighton
ADVERTISEMENT
Article continues below this ad
The feature of the night was also on USA's Erriyon Knighton, who reached the men's 200m finals at just 17 years of age. The wonderkid dominated his heats and wanted a podium finish but came just short of that at fourth. 
"I'm very proud of him,'' Noah Lyles said of his teammate to USA Today. "I tell him that all the time, and he's coming out here and he's coming to win. … If he keeps pushing, I believe he's right down the road to do even more amazing things.''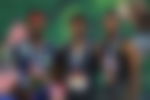 All three of these American athletes will be back for more in Paris just three years from now. With experience and hardened nerves, it will be a much closer fight and we can expect the track team to show up for gold. 
ADVERTISEMENT
Article continues below this ad