'KICK SOME A** MAN'- Fic Flair Sends an Animated Message to Gable Steveson Ahead of Tokyo Olympics 2020
Published 07/20/2021, 10:33 AM EDT
---
---
Gable Steveson is one of the most popular athletes heading to the Tokyo Olympics 2020. The acrobatic Minnesotan will represent the USA in Tokyo at the men's heavyweight wrestling competition. Before he gets down to grappling, Gable got a positive message from one of pro wrestling's most iconic names, Ric Flair.
ADVERTISEMENT
Article continues below this ad
Gable Steveson gets a massage from a two-time Hall of Famer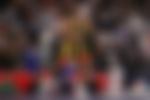 The Nature Boy is a sixteen-time World Champion and a two-time inductee in the WWE Hall of Fame. In a career that spanned four decades, he generated a legacy that only one man could match, and that's John Cena. He's also a role model for Gable Steveson, the current NCAA Heavyweight Champion.
ADVERTISEMENT
Article continues below this ad
Taking to Twitter, the Hall of Famer sent a message to Gable and provided him with enough encouragement to win a gold medal. In his trademark Ric Flair sunglasses, the wheelin' dealin', kiss stealin' persona, Flair almost cut a WWE promo.
"Gable! Goddamn kick some a** man! You're coming back with a gold medal! You're coming to the WWE, looking as only you can look. Next time I see you, it'll be limousine-ridin' and jet-flyin' Gable Steveson, the Olympic gold medalist heavyweight champion of the world. Bring it my friend, we'll all be watching. Knock 'em dead. My best to you and you're Olympic teammates. Go USA! Remember it, Gable, 'to be the man you gotta beat the man'. And right now, you are the man."
With the hopes of former wrestling champions on his shoulders, Gable Steveson will have to fight hard to end up on the podium. However, with a mentor like Brock Lesnar, Gable can challenge that 'Beast' energy and become the second Olympic gold medalist to set foot in WWE since Kurt Angle.
Who are Steveson's wrestling influences?
The biggest influence in Gable Steveson's life from the pro wrestling world is Brock Lesnar. Like Gable, the Beast Incarnate was a former NCAA Heavyweight Champion, but did not compete in the Olympics. Lesnar's archrival Kurt Angle won at the Olympics, but his accolades would eventually pale in comparison to Lesnar's.
Another influence for him has been The Rock. Speaking to Fightful's Sean Ross Sapp, Gable talked about how The Rock influenced him. "He's always been my favorite person to, movie-wise and everything. I've always wanted to be going to the movie scene. The only person I ever want to meet ever, besides the people I've met before, the Rock and a few others."
ADVERTISEMENT
Article continues below this ad
"So, besides those two, I think Kurt Angle—he's gotta be one of the next best ones, too—and Stone Cold Steve Austin. Those guys are legends. But, I like Kurt Angle just because the wrestling background and his Olympic gold medal and with the broken neck, too, was a crazy story. Those three and four are my epitome of greatness."
With influences like these, there's no question Gable won't make it in the wrestling world. However, will he make it to the gold medal at the Tokyo Olympics?
ADVERTISEMENT
Article continues below this ad