"Kids Are Lifting Way Too Much"- Olympic Legend Carl Lewis Claims 'Bulking Up' Will Not Help Sprinters
Published 09/01/2021, 10:37 AM EDT
---
---
Nine time Olympic gold medalist Carl Lewis is a sprinting legend. Even after retiring in 1997, his ability and records still inspire upcoming sprinters.
ADVERTISEMENT
Article continues below this ad
Since his last Olympic games in 1996, the world of track and field has changed in many ways. In today's world, there is technology in everything, from athletes' shoes to the track they run on.
Even the techniques and strategies of athletes have evolved as the competition keeps rising. Athletes keep pushing their limits to get better than their counterparts and their own previous records.
ADVERTISEMENT
Article continues below this ad
Carl Lewis doesn't think athletes need the weights
Olympic legend, Carl Lewis used to sail through the track smoothly. Lewis always believed in being relaxed at the start of the race as it helps in sprinting.
Interestingly, Lewis doesn't believe in weight training as a priority for sprinters. Weight training doesn't help athletes run faster, but can prevent injuries and is motivational.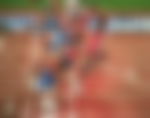 In conversation with Runner Space, Carl talked about how new generation sprinters are lifting way too much. He strongly thinks athletes need to be flexible rather than bulky.
"I think personally, those kids are lifting way too much. They're getting big and strong… But that is not the way it is, and what we want to do is allow the athletes to get stronger but also to continue to keep their flexibility, not put on weight, and also be fresh enough where I can run these high-quality workouts," said Lewis.
ADVERTISEMENT
Article continues below this ad
Carl further added, "I get into discussion all the time with people saying 'yeah, but you gotta be really big and strong'. And I say when you have to be really really big , strong and fast well then you show me a fat Jockey"
Carl believes in dispersing the energy on track
During his career, Lewis was often criticized for not having the best start. Albeit, the Olympic gold medalist had an amazing strategy he used to disperse his energy on the track.
ADVERTISEMENT
Article continues below this ad
Lewis stunningly sped up for almost 70 meters! He started off slow, but in the last 10 to 20 meters, when others slowed down, he sprinted to the podium. Carl Lewis doesn't believe strength matters as much as technique.