VIDEO: Iranian Wrestler Channels his Inner WWE Superstar to Pull Off a Shocking Takedown at the Tokyo Olympics 2020
Published 08/03/2021, 9:48 AM EDT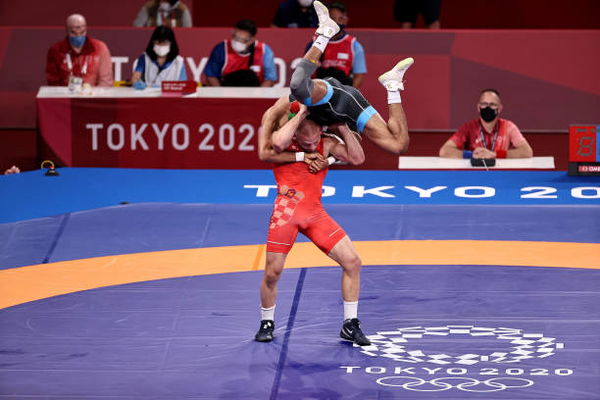 The wrestling championships at the Tokyo Olympics 2020 are one of the most hyped sports this year. With some legendary names clashing with some fresh talent, we'll witness some thrilling encounters. Perhaps nothing gets more thrilling when a wrestler pulls out a WWE-like manouevre to land a takedown.
ADVERTISEMENT
Article continues below this ad
Iranian wrestler channels his inner Rey Mysterio at the Tokyo Olympics 2020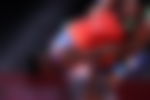 Iranian wrestler Mohammad Ali Geraei came to Tokyo to ensure WWE signs him quickly. Well, not really, the grappler really got the company's attention with a set of brilliant takedowns. We often see the influence of amatuer wrestling in pro wrestling, but the reverse rarely occurs.
ADVERTISEMENT
Article continues below this ad
Geraei, during his opening round bout against Cuba's Yosvanys Peña Flores, executed a beautiful takedown. However, it did not impress Flores at all as it didn't represent a wrestling move, but resembled a sunset-flip powerbomb that Rey Mysterio would execute. After the move Flores looked stunned at what just transpired.
He pulled off an equally stunning move in the quarterfinal match against Croatia's Bozo Starcevic. The Croatian was no match for the Iranian, who took him down with an exquisite float over. The move won Geraei two points and the match, while the Croatian looked at the referee in utter shock.
A set of beautiful takedowns surely grabbed the attention of many pro wrestling fans. However, AEW's Brian Pillman Jr retweeted it and was also quite taken aback by what he witnesses. Needless to say, either AEW or WWE must sign Mohammad Ali Geraei and strap a rocket to his back.
Who grappled for gold at the wrestling championships in Tokyo?
ADVERTISEMENT
Article continues below this ad
Before digging deeper, it's fair to mention that the US men's wrestling teams have been disappointing. Touted as the favorites to come away with the medals, they're being outperformed by their female counterparts who have two medals to their name. Meanwhile, Cuba has been excellent and has two gold medals to their name.
Luis Alberto Orta Sanchez knocked off US' Ildar Hafizov in the opening round and made it all the way to the final. In the final he knocked off Kenichiro Fumita to win gold. His compatriot, bonafide wrestling legend Mijain Lopez picked up his fourth consecutive Olympic medal by knocking off Georgia's Iakobi Kajaia in the Greco-Roman 130kg final.
ADVERTISEMENT
Article continues below this ad
Today, the finals of the men's Greco-Roman 97 and 77kg finals took place. Mohammad Ali Geraei lost in his bronze medal match, but the gold medal went to Tamas Lorincz of Hungary. In the 97kg, Musa Evloev prevailed and won gold.