Olympic Legend Usain Bolt Proves He's Faster Than NFL Star Tyreek Hill
Published 08/14/2021, 5:30 AM EDT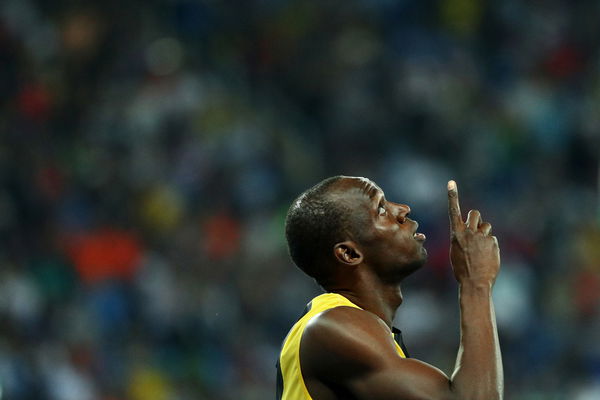 ---
---
Olympic legend Usain Bolt has been in an online feud with NFL star Tyreek Hill. The best in their own fields have been challenging each other for a race to decide who is the fastest between the two.
ADVERTISEMENT
Article continues below this ad
Bolt has, however, proved that he is faster than Hill on the 40 yards. According to Usain's proof, he is 0.7 seconds quicker than the NFL record-holder Hill. Bolt is clearly fanning the flames of their rivalry has been heating on Twitter.
Usain Bolt posts proof of being faster than Tyreek Hill
ADVERTISEMENT
Article continues below this ad
NFL player Tyreek Hill is the chief receiver of Kansas City. Hill holds the record of the greatest ever 40-yard-dash time of 4.29 seconds. Hill made this record during the 2017 NFL game. The fight between the two greatest has been over a 40 yard race.
Usain Bolt recently appeared on the Dan Patrick show, where he talked about Tyreek Hill. Commenting on the race, Bolt said he had texted Hill, saying, "If you keep talking, I might just show up." Responding to the conversation on the show, Hill retweeted saying, ' Someone give him some attention.' 
The Olympic legend did not stay back as he replied, crushing the NFL star. Interestingly, Olympic silver medalist USA's Fred Kerley came forward in Bolt's support. Fred tweeted, 'I can handle him for you.'
Bolt tweeted a proof of his 40 yards time being even faster than the NFL record holder. According to the tweet, Usain Bolt's recorded time is 4.22 seconds, whereas Hill's record time is 4.29 seconds. During the 2017 Super Bowl, Usain Bolt had casually run faster than Hill.
Hill had called the Olympic legend old and washed up
The verbal fight between the two started when Usain Bolt had talked about running 40m in 4.22 seconds. Bolt said Hill got no chance up against him.
ADVERTISEMENT
Article continues below this ad
Attacking Bolt after his comment, Tyreek said, "He's old. He's washed up. And he can't see me at 40 yards. Hundred-yard dash? Yes, that's what he do. But 40-yard dash … Usain Bolt, you cannot see me."
ADVERTISEMENT
Article continues below this ad
Will the 100m and 200m Olympics legend go up against the NFL star, only time will tell. However, it will be an interesting race to watch the two compete. Maybe they will put their respective Olympic medal and Super Bowl Ring on stake too? Bolt has 8 medals, while Hill has one ring.