Noah Lyles Explains Why He Covered the Adidas Logo During His Tokyo Olympics 2021 Trials
Published 06/29/2021, 11:12 AM EDT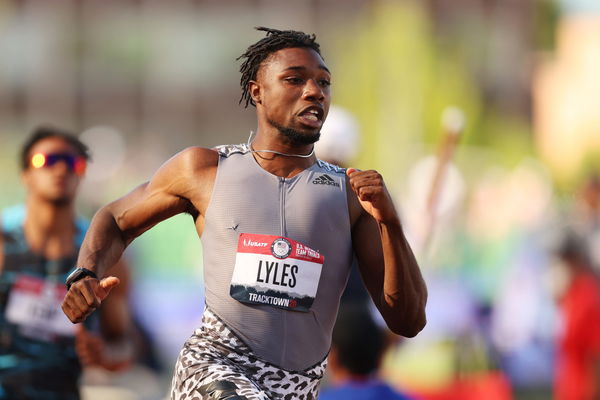 Noah Lyles broke the speed limit for the finals of the 200m sprint at the Olympic Trials a few days ago and stamped his ticket for Tokyo this year. The athlete managed to defeat some major competition in Erriyon Knighton and Kenny Bednarek to place first in a highly-anticipated showdown. 
ADVERTISEMENT
Article continues below this ad
During the race, Lyles was spotted wearing his normal attire, only the Adidas logo was covered in tape. The World Champion, Sponsored by Adidas, did not openly display the logo which led fans to wonder why he did such a thing.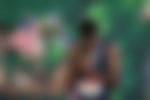 Later on Twitter, Noah Lyles explained the reason why the brand logo was covered in tape, reasoning that the Olympics trials are not sponsored by Adidas.
ADVERTISEMENT
Article continues below this ad
"The Olympic Trials is not an Adidas sponsored track meet so we have to abide to the other shoe sponsors' rules," he wrote. "They have a lot of different rules about sizing of logos so we have to cover it up. It has been happening for many years this is not new."
At first, the tape was not visible or even focused on. Fans spotted it more actively when Lyles posted a photo of himself and fellow competitor Erriyon Knighton on the tracks later in the day. You can view the photo below once expanded.
Noah Lyles faced a motivated Erriyon Knighton in the finals
Noah Lyles was undoubtedly in hot competition as he headed into the tracks for the finals of the men's 200m sprint. Erriyon Knighton had bested him in the heats and the semifinals. The 17-year old wondered even broke Usain Bolt's all-time Under-20 record in the bargain, clocking in at 19.88 in the semi-finals, as compared to Bolt's 19.93 in 2003.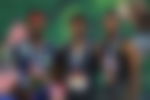 Knighton broke his own new record by landing an insane 19.84 in the finals, playing him at first and second place in the all-time Under-20 records list. However, Noah Lyles brought all the heat to the finals and showed the world just why he is in the game.
ADVERTISEMENT
Article continues below this ad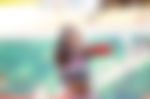 The World Champion clocked the fastest time this year at 19.74, followed by Kenny Bednarek who ran a season's best of 19.78. Knighton will be the youngest athlete to represent his country in nearly 60 years at the Olympics and is aiming for a place on the medal tally. 
ADVERTISEMENT
Article continues below this ad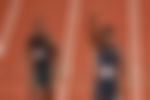 Noah Lyles has competition from every direction but aims at doing everything he did at the Trials over again to reach Olympic Gold.