"We Will All Be Watching"- Allyson Felix Sends an Inspiring Message to Paralympians Ahead of Tokyo Paralympics 2020
Published 08/24/2021, 12:02 PM EDT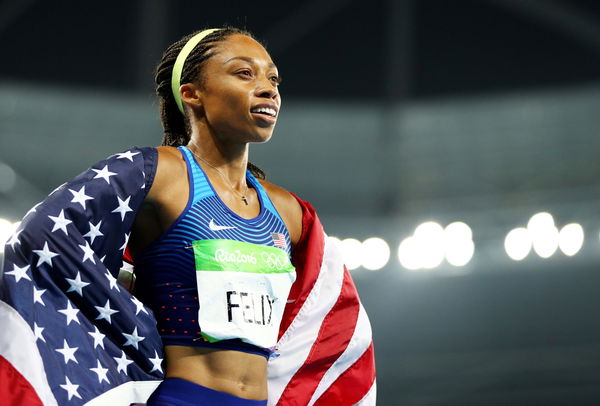 ---
---
The Tokyo Olympics was quite a spectacle of a show, with multiple world records tumbling and exciting finishes to key events. It truly lived up to its mark as the Olympic Games even with the absence of live spectators cheering athletes on. 
ADVERTISEMENT
Article continues below this ad
Now that the dust has settled on that, the next order of events brings us to the Paralympics. Like the Olympics, the Paralympics also hosts events of different sports and disciplines but for athletes with disabilities.
ADVERTISEMENT
Article continues below this ad
These athletes are not deprived of the career they deserve and are given a chance to showcase their skills in this format. The world is tuning in to watch this event that does pack its own punch and stands as a firm statement to willpower and the ability of the human body. 
Supporting the Paralympians in her own way, US track veteran Allyson Felix sent a message out to support the athletes that will be taking part in various events. "All the best! You guys are incredible, you are so inspiring and we will all be watching and cheering you on," Felix said in the message.
Team USA hopes to win big at the event and has once again shown up with an impressive contingent. Chuck Aoki and Melissa Stockwell were given the flag-bearing privileges for the nation as the team headed out in the opening ceremony. Allyson Felix was part of the much larger fanbase cheering the team on.
Melissa Stockwell and Chuck Aoki were the flagbearers for Team USA
Melissa Stockwell is a three-time Paralympian and is a triathlete focused on winning big. She won the bronze Medal in Rio 5 years ago and aims to finish on the podium this time around as well.
ADVERTISEMENT
Article continues below this ad
"As a veteran, carrying the American flag and representing my sport (triathlon), my country, my Paralympic family, and my team — that is an incredible honor," Melissa said.  
ADVERTISEMENT
Article continues below this ad
Chuck Aoki has resented his country strongly in Wheelchair Rugby. He won bronze in London 2012 and silver in Rio 2016. Tokyo could finally be the tournament where e gets gold, nearly a decade after winning his first Paralympic medal. "Being selected flag bearer is such a stunning honor that I never expected," he said.
Many of the Olympians are undoubtedly supporting their countrymen and women as they head to Tokyo. Rather than just a sporting event, the Paralympic Games stands as an inspiration to the next generation watching that anything is truly possible.