Playing Golf in Lockdown Helped Pole Vaulter Armand Duplantis Clinch the Gold at Tokyo Olympics 2020
Published 08/16/2021, 2:07 PM EDT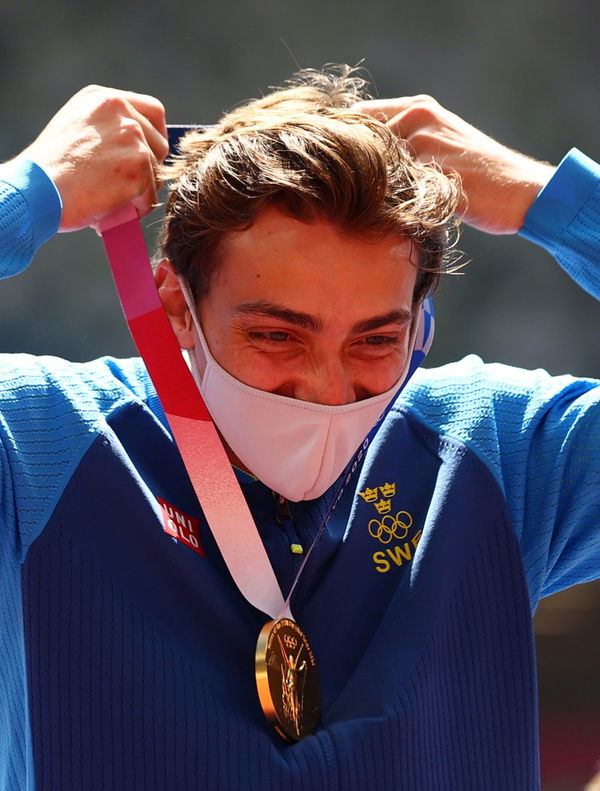 ---
---
The pandemic was a tough time for athletes who were eager to compete at the Tokyo Olympics 2020. Athletes were forced to put a pause in their training and go under lockdown.
ADVERTISEMENT
Article continues below this ad
While some used to time to spend with their families, Swedish athlete looked for another hobby. Tokyo Olympics 2020 pole vaulter gold medalist Armand Duplantis played golf to survive the lowdown. Interestingly, the golf sport eventually helped him with this major sport.
Tokyo Olympics 2020 Gold medalist fell in love with the golf sport
ADVERTISEMENT
Article continues below this ad
After March 2020, there was a draught in world championships, even Olympic games were postponed. The world record holder in the pole vault event, Armand Duplantis, was also facing the same problems as other athletes around the world.
Eventually, he and his friends looked out for some other sport. In conversation with the Golf Digest, Duplantis talked about his golf experience in lockdown.
Arman said, "After the 2020 indoor season ended in March last year, all my competitions were postponed, including the Olympics. So my friends and I were looking for something to do. There were two courses open near my home in Louisiana, so we gave golf a go. Before we knew what was going on, we were playing five times a week. We fell in love with it."
While he instantly fell in love with the new sport, he didn't completely let his primary goal out of sight. Young athlete practised in his parents' backyard as the sport requires constant practice.
Golf and Pole Vault's similarities helped the athlete
Both the Olympic sports, golf and pole vault require mental and physical strength and are time based. While according to Olympic gold medalist, golf changed his perspective about the pole vault sport.
ADVERTISEMENT
Article continues below this ad
In golf, athletes have to focus on every shot, whereas in pole vault athletes get three chances. Eventually, the best out of the three shots is chosen as the results. This often leads to athletes taking first two shots for granted.
Further explaining how golf has changed his pole vault game, he said , "Every shot in golf is like my third attempt. And golf has helped me focus in vaulting. I've been guilty of not taking my first and even second attempts too seriously. Knowing you have a third attempt is not always a good thing. It doesn't allow as much breathing room as you think. So golf has helped me there. Every shot matters. And now I take that attitude into every vault. I know now not to take any attempt lightly."
ADVERTISEMENT
Article continues below this ad
It would be fair to say golf worked wonders for Duplantis as he clinched the Olympic gold medal in pole vault. Armand shot to a height of 6.02 to reach the top. Using one sport to strengthen the game in another sport is incredible.