"It Takes Credibility Away"- 400m Hurdles Champion Karsten Warholm Blasts Nike's "Enhanced" Spikes at Tokyo Olympics 2020
Published 08/03/2021, 4:56 AM EDT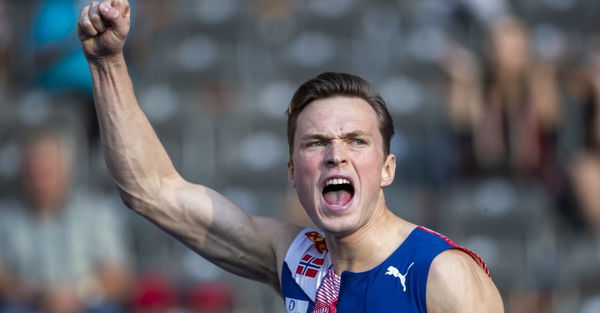 ---
---
Karsten Warholm broke his own record in the 400m hurdles event which was considered as one of the best Olympics races of all time. The Norwegian clocked 45.94 seconds to edge past his competition in Rai Benjamin of USA, who also set a new American record at 46.17 seconds.
ADVERTISEMENT
Article continues below this ad
After the race, Warholm was elated by his success and took a moment to take it all in. He himself could not believe the timing he clocked, something that looked like it came from a 400m race with no hurdles! 
However, the gold medallist took the time to express his opinion on something that has been in the spotlight ahead of the Tokyo Olympics more than ever before- running shoe technology. 
ADVERTISEMENT
Article continues below this ad
Nike has been making leaps and bounds in increasing the effectiveness in shoes, inserting cushioned soles and air pockets to maximise the running economy of its athlete. Karsten Warholm absolutely despises these efforts.
"If you put a trampoline there I think it's bullshit, and I think it takes credibility away from our sport," he was quoted saying after the race by Freelance sports Journalist Cathal Dennehy.
Karsten Warholm uses Carbon plating in his spikes instead
The Norwegian, refusing to be a runner using the foam-filled soles to their advantage, worked with Puma, Mercedes, and his coach to develop carbon plating in his spikes. 
"I have a great shoe. It was important to make a shoe that gives credibility to the results," he asserted. "I don't see why you should put anything beneath a sprinting shoe. In middle-distance I understand because you want cushioning."
ADVERTISEMENT
Article continues below this ad
Warholm indeed made a statement of his own by smashing the world record in the 400m hurdles twice this year. He first tore up Kevin Young's record timing set in 1992 (46.78 s) at the Norwegian track trials and then went on to break his own new world record in Tokyo. 
Rai Benjamin, his main competitor from the USA, clocked a new national record of 46.17, which would have broken Warholm's original record. Both men brought more than their A-games to the race and it truly was a historic finish.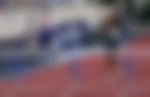 Out of the eight contestants, seven set either new nation records, area records, and world records and equalled existing ones. The 400m hurdles race delivered on every expectation and showed aspiring athletes just what it takes to break new barriers to win.
ADVERTISEMENT
Article continues below this ad