Sifan Hassan Openly Challenges 5000m World Record After Tokyo Olympics 2020 Success
Published 08/17/2021, 6:10 AM EDT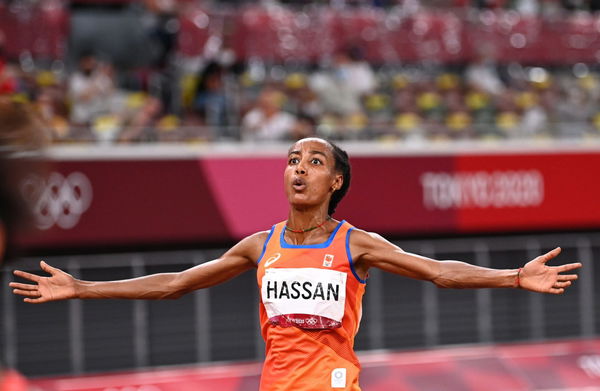 ---
---
Tokyo Olympics 2020 has come to a successful end, but the hustle is not over for athletes. One journey ends, and a new one starts as athletes will now compete in world championships and other tournaments.
ADVERTISEMENT
Article continues below this ad
In Tokyo, Sifan Hassan made it to the spotlight by clinching two gold medals and one bronze. Astonishingly, she made a bold attempt by competing in three events: 1,500, 5000, and 10,000meters.
Hassan not only competed, but clinched medals in all three events. After becoming the Olympic champion, Hassan has declared her next goal of breaking the world record in 5000 meters.
ADVERTISEMENT
Article continues below this ad
Tokyo Olympics 2020 Gold medalist ready to attack the world record
In Tokyo, Sifan ran 24,500 meters of track across nine days. However, Hassan is known for pushing her boundaries. A refugee who fleed from Ethiopia to the Netherlands 14 years ago is on the world top now.
Talking about her next goal, Sifan posted on her social media. She wrote, " Looking forward for preclassic. A long time ago, I decided I want to attack 5,000m WR in Eugene. It's going to be hard after all the races in Tokyo, but In Shaa Allah (smiling emoji)…."
Sifan Hassan is aiming to break the world record at the Prefontaine Classic Championship. The event will kick off in Eugene, Oregon on August 20th. Likes of Sha'Çarri Richardson, Shelly-Ann Fraser, Andre De Grasse, Elaine Thompson will also compete.
The 5000m world record is currently set at 14:06:62. Ironically, the record is held by Ethiopian athlete Letesenbet Gidey. She created the record at the 2019 IAAF World Championships, breaking a twelve-year-old record.
Sifan Hassan's 5000-meter journey
The 28-year-old Olympic champion has openly declared her desire to attack the world record in 5000m. It would be fair to look at her personal records in 5000m to analyze her realistic chances of reaching her goal.
Sifan's personal best timing in 5000m is 14: 22:12, which she established in 2019. Notably, she was also the 2019 Diamond League winner in the 5000m event and 1500m.
ADVERTISEMENT
Article continues below this ad
At Tokyo Olympics 2020, Sifan clinched the gold medal at the 5000m event. Hassan reached the top position at the podium with a time of 14:36:79, beating Kenyan and Ethiopian athletes.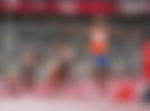 Another interesting point to note is the world record war between Gidey and Hassan. In 2021, Sifan created the 1000m world record. However, within two days Ethiopia's Gidey broke her record in the Ethiopian Olympic trials.
ADVERTISEMENT
Article continues below this ad
Notably, Gidey is currently holding the world record in both 5000m and 10,000m. Albeit, Sifan is in incredible form after her stellar run at the mega-quadrennial games. Her determination and desire were clear in her post, but will she be able to break the record will be clear on 20th August?