Team USA Disqualified From Tokyo Olympics 2020 4x400m Mixed Relay Race
Published 07/30/2021, 9:44 AM EDT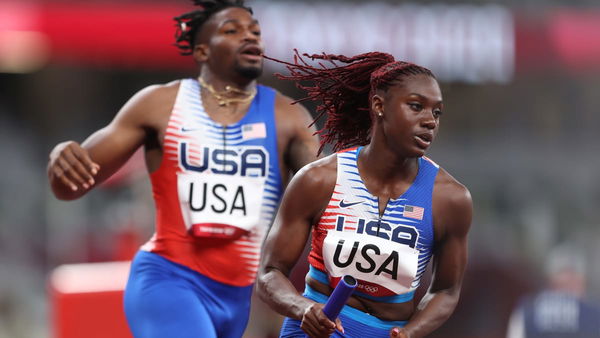 ---
---
While the athletic events have begun in Tokyo, Team USA faced a nightmarish start. At the debut of the mixed 4x400m relay in the Olympics, the United States team was disqualified in the heats, sending shockwaves through the spectators. 
ADVERTISEMENT
Article continues below this ad
After the race had concluded and the team seemingly qualified for the finals, the official ruling marked USA as DQ (disqualified) on the rankings. At first, there was confusion surrounding this decision but later the reason became clear. 
As seen on the replays, the baton exchange involving Lynna Irby was done outside the zone, which goes against the rules of the relay. Athletes are expected to complete the handoff within the zone before the next runner begins the sprint. 
ADVERTISEMENT
Article continues below this ad
The United States mixed 4x400m relay team has been DQ'ed for the handoff coming outside of the zone. They had won the world championship gold medal in this event. The event is making its Olympic debut. #TokyoOlympics

— Chris Chavez (@ChrisChavez) July 30, 2021
Irby herself was shocked by the decision and mistakingly took the fact as a joke at first before realising she was being told the truth by a reporter. According to reporter David Woods of Indy Star Sports, the team appealed against the decision. 
The base of this argument was that the officials in charge put Lynna Irby in the wrong exchange line. Therefore, the error which was pointed towards Irby would be the officials'. There have been no further updates on that front as of now and as it stands, Team USA has been disqualified from the 4x400m mixed relay.
I'm told Team USA is appealing DQ in mixed 4×400 relay because officials put No. 2 runner Lynna Irby at wrong exchange line. So what looked like Irby's error might be official's error. Stay tuned.

— David Woods (@DavidWoods007) July 30, 2021
Team USA was expected to win the gold medal
The team consisted of Elija Godwin, Lynna Irby, Taylor Manson, and Bryce Deadmon. The USA was expected to win gold in this event, given that it won the World Championship in Doha, 2019. However, the team then was entirely different, consisting of Wilbert London, Allyson Felix, Courtney Okolo, and Michael Cherry. Allyson Felix would have competed in the finals of this event for another gold medal had this team not been disqualified.
ADVERTISEMENT
Article continues below this ad
Belgium finished first to qualify for the finals along with Ireland and Germany in second and third respectively. Poland, Germany, and Jamaica placed first, second, and third respectively in Heat 2 to qualify for the finals. 
ADVERTISEMENT
Article continues below this ad
Team USA's shocking upset from the relay shows a lack of concentration and only time will tell if the decision gets overturned or not. Until then, we will have to move on to the next round of athletics which is shaping up well as a huge part of the Tokyo Olympics.