'The Girls Stepped Up'- Simone Biles Reacts to her Teammates' Performance at Tokyo Olympics
Published 08/12/2021, 2:16 PM EDT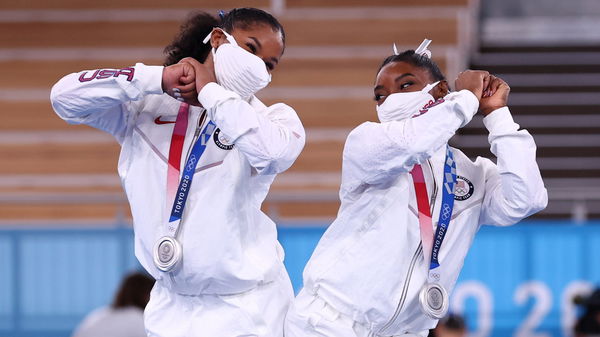 ---
---
Simone Biles stunned the world when she withdrew from a Tokyo Olympics 2020 event. Notably, her message was powerful and was supported by most people. Olympic athletes are under immense pressure and it affects their mental health drastically.
ADVERTISEMENT
Article continues below this ad
While Biles had to withdraw during the event, the pressure fell on her teammates. Team USA gymnastics stepped up their game and produced their best, winning the silver medal.
Simone Biles' teammates didn't disappoint the USA when they were needed the most
ADVERTISEMENT
Article continues below this ad
When Simone Biles left the ground unexpectedly, things could have gotten worse for the team. However, her teammates stunned everyone with their spectacular performance. They eventually won the silver medal, while Simone cheered for them from the stands.
Simone Biles talked about the rules of the gymnastics sport and why there are four players. In conversation with Peacock, she said, "Yes, and that's what the sport is about, and that's why there are four team members. On team competitions, three of us get to compete."
"But we can switch out and that's exactly what we did. And, I don't think people understand the rules that if I were to go out there and get hurt, we're not allowed to swap."
Simone Biles felt proud sitting in the stands watching her team compete. Further adding to the situation, she said, "But since an unfortunate case happened, we were allowed to switch. And although I didn't do the vault I was supposed to because I got lost in the air, the girls stepped up and filled in. "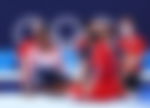 18-year-old Suni Lee won the gold in the all-around event
In the 2016 Rio Olympics, Simone Biles clinched the gold medal in the all-around individual event. Biles was expected to defend her title and secure the gold. However, that's the unpredictability of the sport, as she could not compete because of her mental health.
ADVERTISEMENT
Article continues below this ad
Another American in the fray, Sunisa Lee, represented the nation. The 18-year-old made the country and her teammate Simone proud as she won the gold.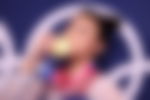 Simone Biles expressed how excited she is for Sunisa Lee's coming future. Biles said, "Super excited for Suni to go on and win all around. She is a reigning Olympic champion now. And I just can't wait to see what else she has to bring to the sport. Because she's gonna be going to college now, so. "
ADVERTISEMENT
Article continues below this ad
It's incredible to watch athletes uplift and cheer each other even after being competitors on the ground. The love and respect of athletes for each other make the sport pure and portrays the Olympic spirit.