Meet the Swedish One-Eyed Horse that's Stealing the Show at the Tokyo Olympics 2020
Published 07/30/2021, 7:27 AM EDT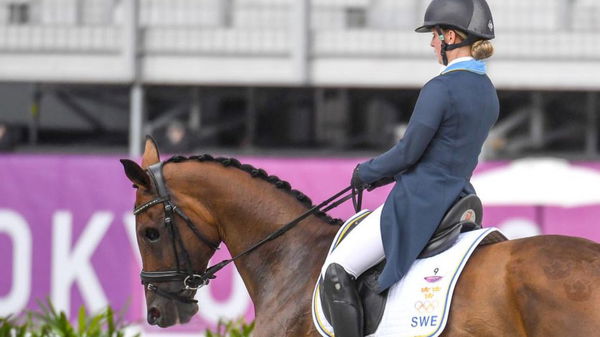 ---
---
The eventing championships at the Tokyo Olympics 2020 kicked off today. We'll witness a range of exceptional athletes with the world's best trained horses competing in a grueling three-day competition. Amongst those horses is Viscera, a horse with just one eye and is competing at the grandest stage with partial visibility.
ADVERTISEMENT
Article continues below this ad
A one-eyed horse is competing at the Tokyo Olympics 2020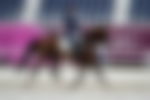 Swedish eventer Therese Viklund rode Viscera at the eventing dressage test and registered an impressive score. With 28.10 penalty points, she stands at provisional ninth place, and lies one spot behind her compatriot Louise Romeike. Sweden isn't a powerhouse nation in equestrian, but their horse has garnered a ton of attention.
ADVERTISEMENT
Article continues below this ad
Viscera is a thirteen-year-old Hanoverian mare, who lost her left eye after a bout of uveitis, which is a disease that causes inflammation in the uveal tract of the eye and can cause blindness. It isn't common in horses, and humans can also contract the disease. But despite this infliction, she continues to perform at the highest level.
Therese Viklund and Viscera have competed at FEI Grand Prix's as well, and have seen a significant amount of success. Their partnership began in 2015, and no other rider has forged a connection with Viscera like Therese. At the Tokyo Olympics 2020, she almost stole the show with an amazing performance, and at 28.10, she's even beaten Michael Jung's Rio 2016 performance, and he ended up winning a gold medal.
The show isn't over for Viscera and Therese as they will move on to the next session. After dressage comes the cross-country competition, the most daunting challenge for the athletes, and finally the jumping round which determines the team and individual medals.
How do the eventing standings look after one session?
ADVERTISEMENT
Article continues below this ad
After the first session, Great Britain established a firm lead at the top thanks to Oliver Townend. The eventing world #1 was the second athlete to perform and laid a solid foundation at the top. In the second session, his teammate Laura Collett furthered their lead and took fourth place.
Two surprise entries in the top ten are China's Alex Hua Tian and India's Fouaad Mirza, and both athletes outperformed some of the best names in the sport, including Phillip Dutton, a former gold medalist. The American finds himself at 12th with a score of 30.50.
ADVERTISEMENT
Article continues below this ad
The Germans have come out of the blocks flying with Julia Krajewski on third, while her legendary teammate Michael Jung will be in action tomorrow in the third and final dressage session. Even the US' highest ranked eventer Boyd Martin will perform tomorrow with Tsetserleg.