Tokyo Olympics 2020: Day Thirteen Medal Tally Update- China and USA Lead
Published 08/05/2021, 4:00 PM EDT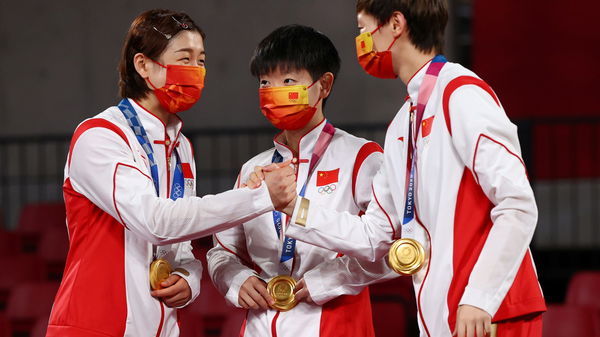 ---
---
The past few weeks have been thrilling for the athletes competing at the Tokyo Olympics 2020. Albeit the closing ceremony of the mega-quadrennial games is just a few days away. Every nation is aiming to secure more medals to better its position in the medal tally. However, China and the USA have secured an unbeatable position in the top two, leaving the others way behind.
ADVERTISEMENT
Article continues below this ad
The host nation is also in a safe place in the third position. 13 Olympic sports saw medal ceremonies and 81 countries have now secured medals.
China is five gold medals ahead of Olympic powerhouse, the USA
ADVERTISEMENT
Article continues below this ad
China has been consistently maintaining its top position in the medal tally. The nation currently has 74 medals, out of which 34 are gold, 24 are silver, and 16 are bronze. China has successfully surpassed its own Rio Olympics 2016 record of 71 medals.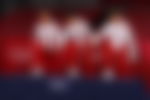 In comparison to yesterday's medal tally, China has four new medals, two of them being gold. Chinese athletes had medal rush in table tennis and diving. While China has taken a good lead, the USA's athletes have also been consistently bagging medals.
The USA is nearing a century with 91 medals on the chart
The Olympic powerhouse has decreased its gold medal gap with China from 7 to 5. Going into the last three days of the mega-event, it will be interesting to watch the two powerful nations compete for the top position.
The USA is near 100 medals, securing 91 medals by the end of the thirteenth day. However, it is still far from its Rio Olympics 2016 haul of 121 medals. America has 29 gold, 35 silver, and 27 bronze medals.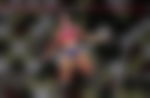 Incredibly, in one day, American athletes have clinched 12 new medals. Team USA had a gold medal rush in athletics, canoe sprint, and wrestling. While athletics is still on the USA's strong feat, the men's basketball team is also yet to win a medal.
ADVERTISEMENT
Article continues below this ad
Host nation Japan also had a stellar run, clinching six new medals to take their medal count to 46 medals. Although they clinched only one gold medal, they are still ahead of others at third position. The tough fight is for the fourth and fifth positions as Australia, ROC, and Great Britain have been fluctuating in these spots.
Medal tally Tokyo Olympics 2020
ADVERTISEMENT
Article continues below this ad
Country
Gold
Silver
Bronze
Total
1
China
34
24
16
74
2
United States
29
35
27
91
3
Japan
22
10
14
46
4
Australia
17
5
19
41
5
ROC
16
22
20
58
6
Great Britain
16
18
17
51
7
Germany
9
9
16
34
8
France
7
11
9
27
9
Italy
7
10
18
35
10
Netherlands
7
9
10
26
11
New Zealand
7
6
6
19
12
South Korea
6
4
9
19
13
Hungary
5
7
3
15
14
Canada
5
5
8
18
15
Cuba
5
3
4
12
16
Brazil
4
4
8
16
17
Czech Republic
4
3
2
9
18
Spain
3
4
5
12
18
Switzerland
3
4
5
12
20
Poland
3
3
4
10
21
Croatia
3
3
2
8
22
Jamaica
3
1
3
7
23
Belgium
3
1
1
5
24
Sweden
2
5
0
7
25
Chinese Taipei
2
4
6
12
26
Georgia
2
4
1
7
27
Denmark
2
2
4
8
28
Iran
2
2
1
5
28
Norway
2
2
1
5
30
Slovenia
2
1
1
4
31
Ecuador
2
1
0
3
32
Greece
2
0
1
3
32
Uzbekistan
2
0
1
3
34
Kosovo
2
0
0
2
34
Qatar
2
0
0
2
36
Ukraine
1
3
9
13
37
Romania
1
3
0
4
37
Venezuela
1
3
0
4
39
Hong Kong
1
2
2
5
39
Kenya
1
2
2
5
41
South Africa
1
2
0
3
41
Slovakia
1
2
0
3
43
Austria
1
1
5
7
43
Turkey
1
1
5
7
45
Serbia
1
1
4
6
46
Indonesia
1
1
3
5
47
Bulgaria
1
1
2
4
47
Portugal
1
1
2
4
49
Belarus
1
1
1
3
49
Ethiopia
1
1
1
3
49
Philippines
1
1
1
3
49
Uganda
1
1
1
3
53
Tunisia
1
1
0
2
54
Ireland
1
0
2
3
54
Israel
1
0
2
3
56
Estonia
1
0
1
2
56
Fiji
1
0
1
2
56
Latvia
1
0
1
2
56
Thailand
1
0
1
2
60
Bahamas
1
0
0
1
60
Bermuda
1
0
0
1
60
Morocco
1
0
0
1
60
Puerto Rico
1
0
0
1
64
Colombia
0
3
1
4
65
India
0
2
3
5
66
Armenia
0
2
1
3
66
Dominican Republic
0
2
1
3
66
Kyrgyzstan
0
2
1
3
69
Mongolia
0
1
2
3
69
San Marino
0
1
2
3
71
Jordan
0
1
1
2
71
Nigeria
0
1
1
2
73
North Macedonia
0
1
0
1
73
Namibia
0
1
0
1
73
Turkmenistan
0
1
0
1
76
Kazakhstan
0
0
7
7
77
Azerbaijan
0
0
3
3
77
Egypt
0
0
3
3
77
Mexico
0
0
3
3
80
Finland
0
0
2
2
81
Argentina
0
0
1
1
81
Burkina Faso
0
0
1
1
81
Côte d'Ivoire
0
0
1
1
81
Ghana
0
0
1
1
81
Grenada
0
0
1
1
81
Kuwait
0
0
1
1
81
Malaysia
0
0
1
1
81
Syria
0
0
1
1