"I Can't Hear You Over My 7 Olympic Medals"- Simone Biles Has a Message for Haters
Published 09/06/2021, 8:48 AM EDT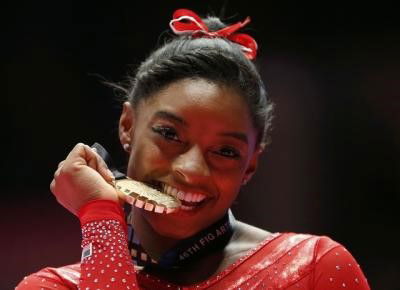 ---
---
Simone Biles is one of the most decorated gymnasts in the history of mega-quadrennial games. Biles has not only achieved numerous victories in her sport, but is a role model for athletes across the world.
ADVERTISEMENT
Article continues below this ad
The 24-year-old has competed at two Summer Olympic games and produced stunning performances. Although Tokyo Olympics 2020 did go exactly the way most would've envisioned it, she achieved something even bigger. Simone opened up about her mental health and is now an example for young athletes that 'it is okay to not be okay.'
The word quitter is not in the dictionary of Simone Biles
ADVERTISEMENT
Article continues below this ad
After winning two medals in Tokyo, Simone has become one of the most decorated gymnast in the world with seven Olympic medals.
It's been a month since Simone Biles's appearance at the Tokyo Olympics 2020. Simone surprised everyone when she withdrew from the team gymnastics event in Tokyo. Biles took the strong and daring step because of her mental health, as she felt that continuing to participate might have led to an injury. It would not be fair to call Simone a quitter, albeit some of her critics had attacked her for leaving the team at a very crucial stage of the match.
Reflecting on her experience and happiness of winning at Tokyo, Simone posted a throwback picture of her Tokyo medals on her Instagram. Simone also wrote a powerful message for her haters and critics.
"I can't believe it's already been a month. Definitely not the way I planned the Olympics, but I wouldn't change anything for the world. I am proud of myself and the career I've had thus far. this Olympics doesn't erase the past accomplishments I've achieved nor does it define who I am as an athlete. I've pushed through so much the past couple years, the word quitter is not in my vocabulary."
Simone continued, "for some of you, that may be how you define me but keep talking I can't hear you over my 7 Olympic medals, which tied me for the most decorated gymnast EVER as well as the most decorated American gymnast."
The Olympic journey of gymnastics star
Biles competed in her maiden Olympics at the Rio Olympics 2016. A young Biles rose to fame as she clinched five Olympics medals in her first appearance, out of which four were gold. Entering Tokyo, she was the favorite to win and defend her titles. But the unexpected happened for both Biles and her fans, as she had to withdraw.
ADVERTISEMENT
Article continues below this ad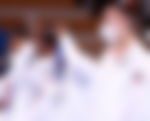 While Simone withdrew from the match, team USA still went ahead and clinched the silver medal without their star performer. Even after her mental health being affected, the Olympic gymnastics star did not want to come home without performing in Tokyo.
Biles competed in the balance beam individual event and clinched the bronze medal despite her struggles at the mega-event. Simone's glory in Tokyo increased her Olympic medal count to seven.
ADVERTISEMENT
Article continues below this ad
Whether Simone Biles will compete at the Paris Olympics 2024 or not is unclear right now. But she will soon be seen at the Gold Over America Tour.