Tokyo Olympics 2021: Rules in Archery Sport
Published 06/30/2021, 10:49 AM EDT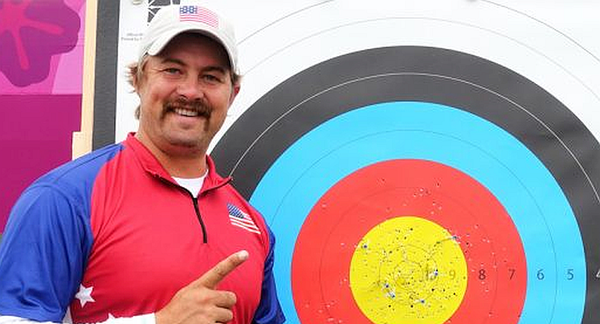 ---
---
The most awaited Tokyo Olympics 2021 are all set to begin at the end of July. Archery has been part of the mega quadrennial games since 1900, although discontinued in 1920.
ADVERTISEMENT
Article continues below this ad
Albeit, archery made its comeback in 1972 and has been a consistent part of the Summer Olympics. In Tokyo Olympics, athletes will compete around five events in archery.
Notably, the rules and formats are the same for men and women. The recurve archery is the only discipline contested at Olympic games.
ADVERTISEMENT
Article continues below this ad
Target and distance
The archery target is in five colors and 122 centimeters in diameter. It has ten rings, 12.2cm in width, and every color has two rings. The distance between target and archer is 70 meters.
The points and color system for rings:
Innermost ring Gold color – 10 and 9 points
Red rings- 8 and 7 points
Blue rings- 6 and 5 points
Black rings- 4 and 3 points
White rings- 2 and 1 points
Read More: What are the Archery Events at Tokyo Olympics 2021?
Archery Olympic Round and rules
The Archery Olympic Round system is used to make the sport more watchable for viewers. The 12 arrows system was used previously, but since 2010 the sets system is being used.
In Archery, five events are part of the Tokyo Olympics. And there are 128 spots (64 men and 64 women). All the athletes first compete in the ranking round.
All the 128 archers will shoot 72 arrows in the qualification round. Based on the results, the seeding of athletes will take place. Eventually, based on these rankings they will go ahead in individual, team events, and mixed team event.
Individual event rules
Based on their rankings, the first rank archer will compete with the archer at 64th rank. The athletes will compete in 5 sets in which each player will get 3 arrows per round. For each set winner gets 2 points, and in case of a tie 1-1 point for each player. The first archer to earn 6 points wins.
Team event rules
ADVERTISEMENT
Article continues below this ad
Every team will have three players, and the Top-8 seeds will compete. The Top-4 seeded teams will get a direct entry in the quarterfinals. Whereas, the next 8 seeds (5-12th) will contest for the remaining four places.
In the team event, there are four sets, and each team gets six arrows (two per team member). The points system is the same as the individual events.
Mixed team event rules
ADVERTISEMENT
Article continues below this ad
The rankings play an important role in the qualification for the mixed event. The Top-16 seeds compete against each other. In the event, archers compete in four sets with four arrows per team.