USA Wonderkid Erriyon Knighton Smashed Usain Bolt's All-Time Record Ahead of Tokyo Olympics 2021
Published 06/27/2021, 4:11 AM EDT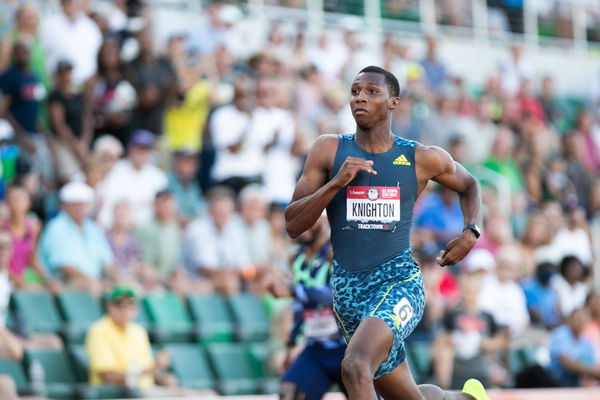 ---
---
We all believed Erriyon Knighton would eventually do it, and now he has gone and done i. The 17-year old wondered, just out of high school, smashed the all-time record set by Usain Bolt on the tracks at the Hayward Field Stadium in Eugene, Oregon.
ADVERTISEMENT
Article continues below this ad
The Olympic Trials were reaching their peak in terms of competition and stakes were higher than ever. At the semi-finals of the 200m sprint trials, all the eyes were on the men at the tracks and especially Erriyon Knighton. 
The sprinter had broken Bolt's record at second place in the U-20 category and was now aiming for the first place, which was at an impossible 19.93 seconds. As the race began, it was clear that Knighton had an extra step in his feet, and went on to breeze his way into history.

ADVERTISEMENT
Article continues below this ad
Erriyon Knighton beat Usain Bolt and World Champion Noah Lyles
The 17-year old from Tampa, Florida clocked in at 19.88 seconds, shattering Bolt's record, believed to be untouchable. The eight-time Olympics gold Medalist set this U-20 record all the way back in 2003 and no one has come close to it since then.
At just 17 years of age, Knighton has erased Bolt's name of the charts and has bow even emerged as a favorite for Olympic Gold! The reason for this is that he has now beaten World Champion Noah Lyles twice, once in the heats and now again in the semi-finals. 
Lyles, clocking in at 19.91 came third, losing out to Kenny Bednarek at 19.90. The finals will truly determine the best of the lot and will give athletes the psychological edge before they step into Tokyo. 
Are we looking at the next Usain Bolt?
As mentioned earlier, Erriyon Knighton breezed past Bolt's all-time rerecord at second place in the heats. Managing a 20.04, he was determined to make the top record his. Now, he may very well go on to become the next Usain Bolt. 
ADVERTISEMENT
Article continues below this ad
A successor to the Jamaican legend seems difficult to consider this early after his retirement, but it seems the comparisons have to be drawn. Billed at 6 ft 3 inches, Knighton already has the height to be the next Bolt. In terms of speed, he is already on the hot track. 
ADVERTISEMENT
Article continues below this ad
Noah Lyles was not at this best and is known to have clocked in at faster times. We will surely bring his A-game to the finals, but so will Erriyon Knighton as he looks to absolutely break the wind yet again.