Emily Sisson breaks USA Olympic Trials record ahead of Tokyo Olympics 2021
Published 06/26/2021, 2:34 PM EDT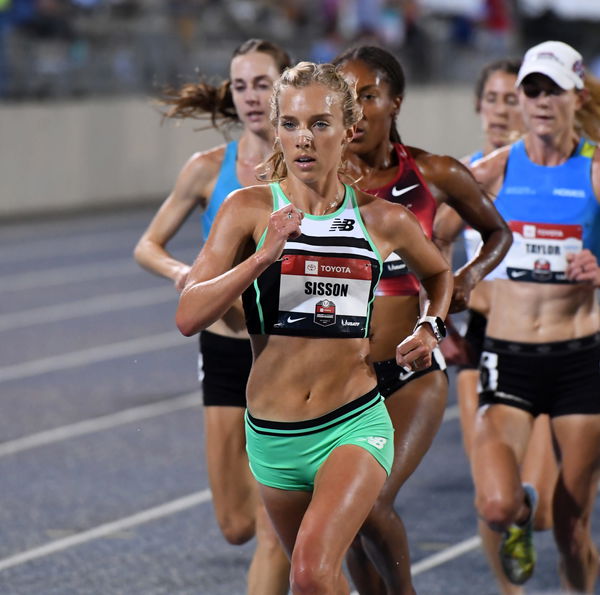 ---
---
Enduring the blazing hot 80 degrees plus weather, the contestants in the Women's 10,000m Olympic trials ran to book a hopeful slot headed to Tokyo. One woman stood out completely from the rest and that is none other than Emily Sisson, who dominated the trials and grabbed the first place. 
ADVERTISEMENT
Article continues below this ad
Sisson, who missed out on qualifying for the marathon event no too long ago, mended old wounds and re-established her proficiency in the event. Grasping the lead in only the fifth lap, she held the distance between every other competitor to win the race. 
ADVERTISEMENT
Article continues below this ad
Emily Sisson took an early lead and maintained it
The athlete finished at 31:03.82, which is a new Olympics trials record for the Women's 10,000m race. Fans were certainly impressed by the dominant display, given that the winner was decided at the early stages of the run. 
An unforgiving heatwave forced the trials to be held in the morning at a temperature above 80 degrees. Originally scheduled for the evening in Eugene, a further rise in the temperature forced the event to be held earlier. 
Emily Sisson, unphased by these conditions, showed everyone why she still is a heavy contender in her country, and possibly even at the Tokyo Olympics. 
Silver medallist Karissa Schweizer is undecided about her commitments
Karissa Schweizer finished second in 31:16.52, 12.7 seconds behind Sisson. She marked the day with her second Olympics qualification this year. Schweizer also qualified earlier for the 5000m event and as of now, is set to take part in both. Although, she has not decided whether she wants to do both and may decide to go for just one instead. 
If she does decide to pick one, the next in line in the trials will head to Tokyo in her place. Alicia Monson sealed the group by finishing third at 31:18.55. 
The USA Olympic trials are plagued by unforgiving heat
The Olympic trials have begun to get heated up not just by the heavy competition but also by the scorching sun. Athletes complain about the blazing weather daily and it seems the long-distance runners have to bear the absolute brunt of it all. 
It was 87 degrees on the track at the finish.

— Women's Running (@WomensRunning) June 26, 2021
ADVERTISEMENT
Article continues below this ad
The 10,000m event saw 41 participants, a number unusual for the trials. For this reason, the trials were set to be divided into two sections, a decision that was probably called off due to the heat as well as time constants. 
Needless to say, fans have to keep an eye out for Emily Sisson as she eyes Olympic Gold at Tokyo next month. 
ADVERTISEMENT
Article continues below this ad