USA 400m Hurdles Star Rai Benjamin Reveals the Secrets Behind His Training Technique
Published 07/20/2021, 2:43 PM EDT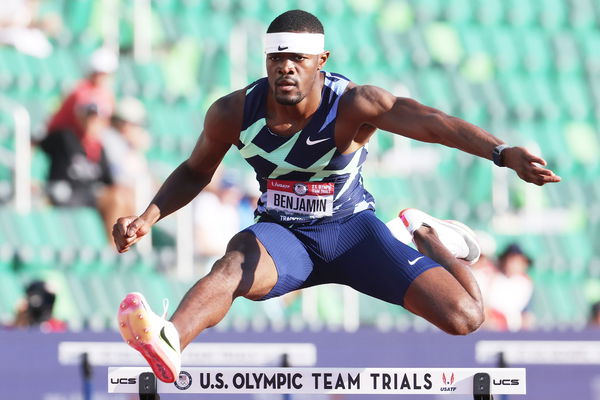 ---
---
Rai Benjamin is the USA's best bet at winning the 400m hurdles race at the Tokyo Olympics. At the Olympic Trials, he managed to clock a then world-leading, and meet record timing of 46.83, just short of the then all-time record. 
ADVERTISEMENT
Article continues below this ad
As one of the fastest athletes in the world right now, Benjamin aims to go all the way in the 400m hurdles race. Although it may not be as quick as the 110m version, it requires a quick mind and consistent stability for the longer course.
ADVERTISEMENT
Article continues below this ad
Hurdlers definitely have to have a technique going into the race and need every sort of physical edge they can get over competitors. Indeed, Rai Benjamin also has his tips for lasting through the 400m hurdles race without running out of breath early or tripping. 
1.Short Sprints
Like most athletes, hurdlers have to be fast, but more importantly, agile. The gap between the hurdles can sometimes be the only chance athletes get to beat their opponents so they have to be quick in short distances. 
"Just sprint as fast as you can for 10 meters," Benjamin said, speaking to Men's Health. "But do it while being mechanically sound."
The hurdler makes the most of his time boosting his speed with this technique. He suggests a 90-second break before moving onto the next set. 
2.Balance
The most important thing about the hurdles race is keeping your balance. While the challenge also comes from lowering your center of gravity and not tripping on the hurdle, landing on one foot is harder than it seems. 
For this, Rai Benjamin recommends you practice jumps and strides such that you land with momentum. That way, you can figure out how to balance yourself on the decline. 
"Start with both feet on the ground, then jump forward and then hop on one leg. Then explode off that one leg onto the other leg, then explode again off that leg and land," he said.
3.Breathing
Every athlete in every kind of track race has an effective breathing technique. Breathing is as important as speed when it comes to hurdles. The Olympian to-be stresses that one must be "in a relaxed state before you compete."
ADVERTISEMENT
Article continues below this ad
Rai Benjamin himself follows the 4-7-8 breathing method recommended by Andrew Weil, M.D. At the start of the race, he exhales completely and then inhales for the first 4 seconds through his nose. He then holds his breath for the next 7 seconds before blowing it calmly over the next 8 seconds through his mouth.
Benjamin guarantees the effectiveness of these techniques and follows them strictly in every race and while training for them.
ADVERTISEMENT
Article continues below this ad