VIDEO: Australian Skateboarder Crashes Into Cameraman-Manages to Qualify for Tokyo Olympics 2020 Finals
Published 08/06/2021, 6:00 AM EDT
---
---
Skateboarding has made its debut at the Tokyo Olympics 2020. While it has been an interesting watch for the viewers, going against gravity has not been easy for the athletes. Because of the intensity of the sport, some players even got hurt.
ADVERTISEMENT
Article continues below this ad
However, an unexpected event occurred when a skater crashed into the cameraman. Albeit, it's very unusual, as players are extremely careful, but sometimes they lose control. One such incident took place at the Tokyo Olympics 2020 as a 17-year-old Australian bumped into the cameraman during the qualification rounds of skateboarding.
Skateboarder still qualifies for the finals at Tokyo Olympics 2020
ADVERTISEMENT
Article continues below this ad
In the qualification round of the men's skateboarding event, Australia's Kieran Wooley had an unexpected collision. Wooley was going at a good pace to finish in the top three to reach the finals.
However, coming at a fast speed, Wooley accidentally bumped into the cameraman. Although Wooley tried to stop his board, it was too late, and the cameraman had a nasty fall on the ground. Thankfully, nothing serious happened because of the accident.
Woolley, who stayed on his board and didn't lose his balance, rushed to the cameraman, leaving his race to check upon him. Then, the 17-year-old continued his race and qualified for the finals.
The cameraman shows his professionalism records Wooley's apology fist bump
After falling on the ground, the cameraman showed Wooley a thumbs up, informing the skater that he was fine. The 17-year-old then reached out to the cameraman with an apologetic fist bump.
The guy behind the camera showed his dedication, as he did not miss out on the chance of recording. As Wooley bent for the fist bump, the operator recorded the moment for the viewers to watch.
ADVERTISEMENT
Article continues below this ad
Wooley then qualified, scoring 82.62 to secure a place in qualification. However, he ended in the fifth position in the finals, missing out on the podium finish.
Another Australian skater wins the gold medal with his stunning trick
Another Australian skater in the fray, Keegan Palmer, won the gold medal in the final event. He used a very hard trick to clinch the medal. The 18-year-old revealed his secret trick of a 'kickflip 540' in the final, leaving everyone stunned.
ADVERTISEMENT
Article continues below this ad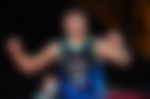 Keegan bettered his qualification score of 94.04 to 95.83 in the finals and grabbed the gold. He and his coach had been practicing the secret trick for years, however, he finally mastered it just before Tokyo Olympics 2020.