WATCH: Irish Gymnast Debunks Myth of Cardboard Beds Being 'Anti-Sex' at the Tokyo Olympics 2020
Published 07/19/2021, 1:31 PM EDT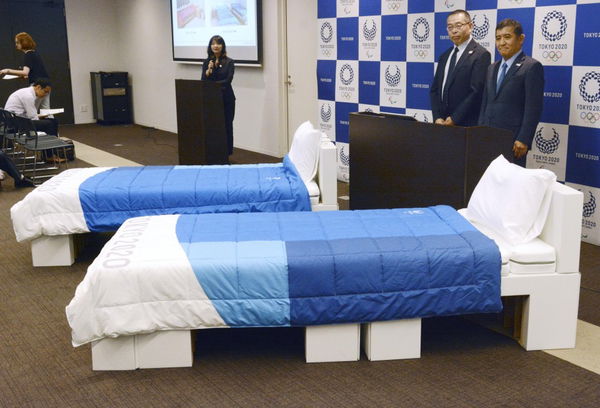 ---
---
While various reports have come up judging the quality and purpose of 'cardboard' beds in the Olympics village in Tokyo, the topic has also been subject to scrutiny on social media. Following recent suspicions, reports arose claiming that the beds were made in order to prevent intimacy between athletes so that unnecessary social contact is kept at bay. 
ADVERTISEMENT
Article continues below this ad
This argument claims that the beds are made only to be able to withstand the weight of one athlete at a time. This means if two or more athletes rest on it, it will collapse with sudden movements. Athletes themselves were intrigued by this idea and joked about it on Twitter. 
ADVERTISEMENT
Article continues below this ad
Some even shared a video of the cardboard frame, downing the bed's integrity. Some even wondered if they would be able to get sleep on such a bed. However, Irish Gymnast Rhys McClenaghan managed to lay all these doubts to rest. 
The athlete shared a video of him jumping up and down the bed. As you can see in the tweet below, the bed does not budge and seems sturdy enough. Although, several athletes have asked him to repeat the action with two people on the bed. 
The 'cardboard beds' are much sturdier than they look
Several concerns were raised about these beds, but so far none have collapsed. The general manager of the Athletes Village confirmed that the beds were extremely sturdy and went so far as to claim that they were stronger than wooden-frame beds. 
The Tokyo Olympics has used cardboard instead of wood or steel for the beds as a part of its initiative to "Be better, together – For the planet and the people." . Medals this year will also be crafted from digital waste. However, the cardboard beds certainly take the cake in this scenario. 
ADVERTISEMENT
Article continues below this ad
USA 400m hurdles favorite Rai Benjamin took to Twitter to joke that his bed would collapse if he accidentally dropped water.
So if I spill water on my bed in Tokyo, will it be compromised!? 😂😂

— Rai Benjamin (@_Kingben_) July 17, 2021
ADVERTISEMENT
Article continues below this ad
The beds are quite peculiar but they serve their purpose. They certainly are a lot stronger than they look and will hold taller and heavier athletes. If these bats are truly 'anti-sex', then art will also work in the favor of the Olympics Village which is already struggling to keep COVID-19 at bay. 
Trending Stories