World's Tallest Horse Dies Ahead of Tokyo Olympics 2020
Published 07/15/2021, 9:06 AM EDT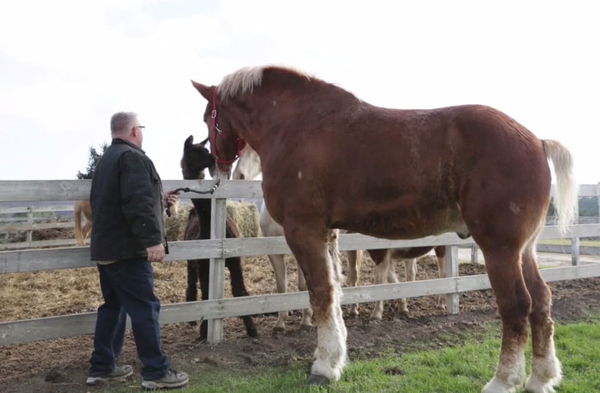 ---
---
The world's tallest horse 'Big Jake' passed away at a farm in Wisconsin, United States. Breaking the Guinness World Record in 2010, Jake lived a long and happy life but passed away suddenly. Although the news broke out recently, Big Jake dies two weeks ago, but one week away form the equestrian games at the Tokyo Olympics 2020.
ADVERTISEMENT
Article continues below this ad
'Big Jake' passes away week before Tokyo Olympics 2020
ADVERTISEMENT
Article continues below this ad
Born in Nebraska, Big Jake weighed 240 pounds at birth, and that's about the same weight as John Cena, a former WWE Champion. Although information about his parents is unavailable, we can only wonder what mighty sire and mare bred this behemoth.
Although he died two weeks ago, the Gilbert Family broke out the news on Facebook less than 48 hours ago. "We would rather not remember him by a date–it's been a traumatic event for our family," said Valicia Gilbert, one of Jake's owners. According to the Gilbert family, Jake was more than just a world record holder but a member of their family.
The owner of Smokey Hollow Farm in Wisconsin, the farm Jake lived at, Jerry Gilbert, also opened up on Jake's death. "It's very quiet [at the farm].The other horses know. I think they have their own grieving time because Jake was the center of attention around here. There is a huge void. It feels like he's still here, but he's not."
This wasn't the only tragedy the farm saw in 2021. Earlier this year they lost another giant 20hh horse. The family said, "Our beloved boy is in heaven with his driving pal and best friend Almighty Bruce. Bruce passed away in spring also at the age of 20 and he was also a 20hh horse. They were quite the pair!"
How tall was Jake?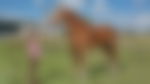 ADVERTISEMENT
Article continues below this ad
To break a world record, Big Jake had to really be 'Big' Jake. Being 240 pounds at birth is a startling feat, but weighing 2,500 pounds at 20 is simply incredible. However, Jake's height was the real attribute that made him a living legend.
The term 'hh' stands for 'hands high' and Big Jake stood at a gigantic 20hh. This made him the tallest living horse in the world, and the only officially recorded horse taller than him was in 1850. A Shire named Sampson, later renamed Mammoth stood at 21hh, which is almost 2.1 metres tall.
Belgian draft horses are the tallest horses in the world, and Jake was his king. Although he's gone, he leaves behind a legacy that many will celebrate, especially his family in Smokey Hollow Farm.
ADVERTISEMENT
Article continues below this ad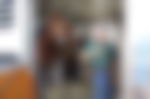 Trending Stories