WOW! 62-Year Old Australian Creates History at Tokyo Olympics 2020 after Winning a Silver Medal
Published 08/02/2021, 4:08 PM EDT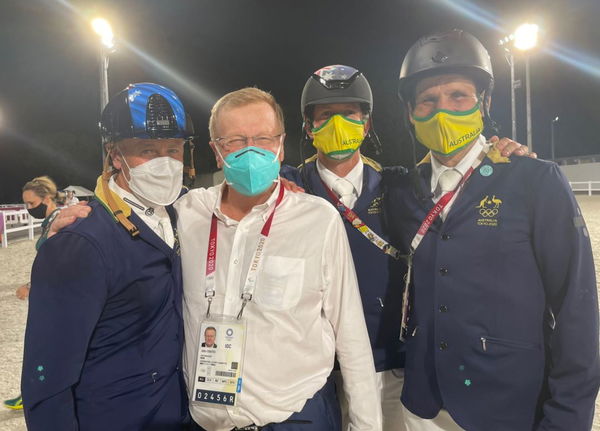 ---
---
Legendary equestrian rider Andrew Hoy is back again in the headlines. The Australian veteran arrived at the Tokyo Olympics 2020 with a firm plan in mind, to return back on the podium. This was his eighth appearance at the quadrennial showpiece. He ensured that it would be a memorable one, for him and his Aussie mates.
ADVERTISEMENT
Article continues below this ad
The 62-year old horse rider, along with Kevin McNab and Shane Rose of the Australian equestrian team, finished second to Great Britain in the team competition. In doing so, Hoy etched his name in history books as the oldest athlete from Australia to secure a medal at the Olympics.
Read further to see what Hoy had to say about his latest achievement and his plans for the near future.
ADVERTISEMENT
Article continues below this ad
Australia's Andrew Hoy is part of Tokyo Olympics 2020 folklore forever!
Andrew Hoy painted an ecstatics figure after securing a podium finish at this year's Toyko Olympic Games. He added that his daughter Phillipa was checking up on him on the day of the final. He's glad that he could make her proud.
ADVERTISEMENT
Article continues below this ad
"My daughter sent me a message this morning saying, 'Daddy, you rode really good yesterday and I want you to bring home another medal.' So that's so special. So Philippa, I've done it….I've got my eyes set on 2032 — Brisbane. Big incentive to get there. We will wait and see. Vassily is going really well," Hoy said via ABC News.
He further spoke about his darling horse, Vassily de Lassos.
"It is very, very special. We don't come to these championships, especially Olympic Games, to finish in fourth, fifth or sixth. We only come to get a medal and look, it's been a complete team effort. I've got a fantastic horse. I know I've been to [eight] Olympics, but I've done it with fantastic horses and Vassily de Lassos is one of the world's greatest horses," Hoy told The Guardian.
ADVERTISEMENT
Article continues below this ad
This takes Hoy's Olympic medal tally to six: three gold, two silver and one bronze medal. What's not to say he'll still be around for the 2032 Brisbane Olympics?