BREAKING: Olympic Committee Hands Maximum Punishment to Brazilian Swimmer Ahead of Tokyo Olympics 2021
Published 07/12/2021, 4:27 AM EDT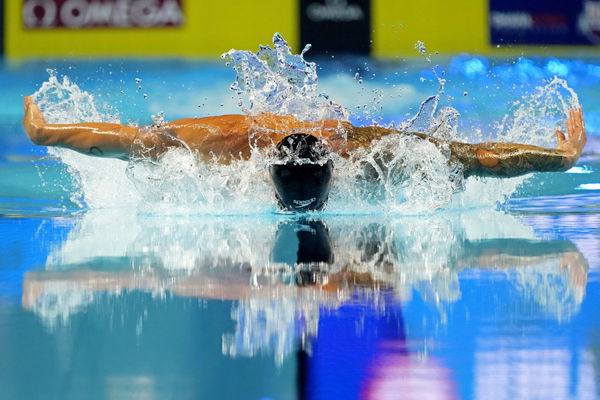 ---
---
Swimming is a very strict sport and does not allow athletes to improve their performance with external boosters. By that, we mean steroids. Athletes have to be extremely careful in what they consume as part of their diet. 20-year-old Brazilian swimmer Andre Calvelo recently faced the consequences of it as he's been handed a maximum four-year ban, costing him a place at the Tokyo Olympics 2021. 
ADVERTISEMENT
Article continues below this ad
While Andre Calvelo might not be a familiar name like Caeleb Dressel or Kyle Chalmers, the 20-year-old won the 100m freestyle in the Brazilian Olympic Trials in March. However, a surprise doping test whilst the team was at the training center revealed that Calvelo consumed a banned substance, which prompted the Brazilian Confederation of Aquatic Sports (CBDA) to suspend him. 
What substance did Andre Calvelo take?
ADVERTISEMENT
Article continues below this ad
The suspension came into effect immediately after Calvelo's positive test. However, the CBDA had to procure a positive 'B' test just to confirm. When the latter also returned the same way, the officials handed him a maximum four-year ban, meaning 20YO Andre Calvelo will miss the Tokyo Olympics 2021. 
The substance found in Calvelo's system was 'Drostanolone Propionate,' an injectable steroid. This is also known as 'Masteron' and is credited with improving a person's energy levels along with boosting muscle energy and growth. 
How did Calvelo react to the suspension and missing the Tokyo Olympics 2021?  
There is no going back once an athlete tests positive for a banned substance. Such are the stern regulations when it comes to swimming, or any other sport, for that matter. Andre Calvelo's Tokyo Olympics 2021 dream is crushed just because he injected Drostanolone Propionate, or possibly consumed it by 'mistake.' 
Calvelo's case was heard at the Superior Court of Sports Justice of Brazilian swimming, but the court rejected his defense. Andre Calvelo pleaded that he had consumed the substance by 'mistake' by using a blender that already contained the substance in it. 
ADVERTISEMENT
Article continues below this ad
So Calvelo's defense was that he involuntarily consumed it. Even if he did take it by mistake, the regulations maintain that the athlete should be suspended if the substance is found in his/her body.  The court showed him no mercy.
As a result, Calvelo will miss Tokyo Olympics 2021. The maximum penalty for a first-time offense is a four-year ban. This means that the 20-year-old Brazilian will also miss the subsequent Olympic Games in Paris. 
ADVERTISEMENT
Article continues below this ad