'Crossed at Least Six or Seven Countries Illegally' – Tokyo Olympics 2020 Refugee Team Member Narrates Heartbreaking Story to Angelina Jolie
Published 07/18/2021, 12:58 PM EDT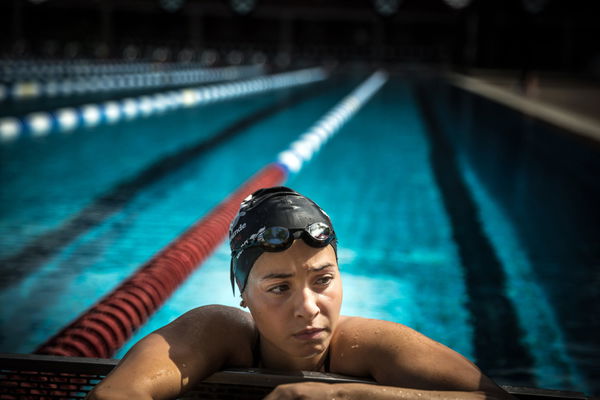 ---
---
The International Olympic Committee introduced the Olympic Refugee Team in the 2016 Rio Olympics. It comprised of athletes from various countries uniting under the Olympic banner. One such athlete who is currently a part of the Olympic Refugee Team is Syrian for Tokyo Olympics 2020 is swimmer Yusra Mardini. 
ADVERTISEMENT
Article continues below this ad
While Mardini is Syrian by birth, she and her family were deemed refugees, which made life absurdly difficult for her. However, the greater part is that Mardini has battled all the negatives to establish herself as an Olympic swimmer. 
Yusra Mardini shared a tale of heartbreaking struggle with Angelina Jolie ahead of Tokyo Olympics 2020
ADVERTISEMENT
Article continues below this ad
The IOC does a terrific job of introducing underprivileged athletes to the global platform. It strives to keep improving this mission, and there are several personalities who help in this case. Hollywood actor and humanitarian Angelina Jolie is one of them. 
"We crossed at least six or seven, seven countries illegally. And yeah, it was me, my sister and two other guys," Mardini told Jolie in a recent conversation with the 46-year-old. 
Yusra Mardini then began narrating the tragic story of how a boat engine failed when they were on a trip to Turkey from Greece. The journey was long, and the little boat was filled with 20 people, including Mardini and her sister. 
"And unfortunately, our boat engine didn't work anymore after like 15 minutes. And the more brave person was my sister because she was the first one to jump in the water. And then I jumped from the other side," Mardini mentioned. 
ADVERTISEMENT
Article continues below this ad
"And after almost three hours and a half, we made it to shore we threw everything, all the belongings so I arrived, even without any shoes. I arrived with jeans t shirt, and a little selfie bag where I put the phone and the money," Mardini added. 
Yusra Mardini then emphasized that a lot of refugees go through this type of trauma. While the situations may differ, the pain is the same. 
Mardini is now set to become a two-time Olympian when she competes at Tokyo Olympics 2020. She made her debut during the 2016 Rio Olympics, and will once again represent the Olympic banner in Tokyo. 
ADVERTISEMENT
Article continues below this ad