On This Day: Michael Schumacher Shows What He is to the World, Clinches First Podium
Published 03/22/2020, 1:04 PM EDT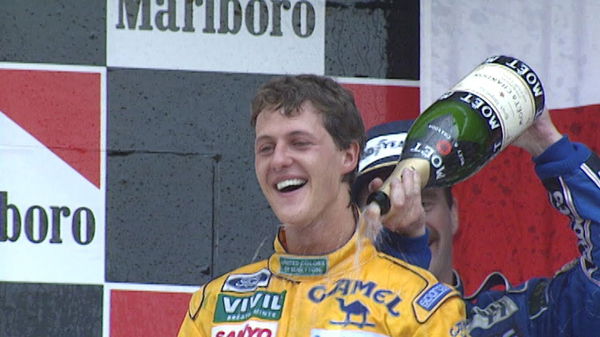 ---
---
On this day – 28 years ago, Michael Schumacher stepped on an F1 podium for the very first time. The German driver achieved his first and very unlikely podium in 1992. The 1992 Mexican Grand Prix marks the start of one of the most dominant runs in F1 history.
ADVERTISEMENT
Article continues below this ad
Michael Schumacher captures maiden podium in F1
Schumacher qualified an impressive third in his 'basic' Benneton car. I call it basic, as the team lacked the bells and whistles equipped in the far more superior Williams. Unlike the Williams of today, the Williams team from nearly 30 years ago was a formidable force in the F1 world.
ADVERTISEMENT
Article continues below this ad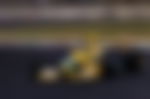 Nevertheless, Schumacher lined up alongside Williams' Nigel Mansell and Riccardo Patrese. The duo pulled away at the start of the race and built a sizeable gap to finish 21 seconds ahead of Schumacher's Benetton. The race wasn't completely straightforward but ' the Michael' managed to fend off McLaren's Gerhard Berger.
The German driver went on to pick up another 154 podiums along the way. Oh, and he also won the Drivers' Championship a whopping seven times. As far as the record books go, Michael is undoubtedly F1's GOAT.
Schumacher's record of 7 titles and 91 victories is under threat from Lewis Hamilton. However, with the season being shortened the record might just stand for another year.
Reflecting on his first F1 podium, Schumacher said:
ADVERTISEMENT
Article continues below this ad
"I'm really happy about the third place"
"I didn't expect, really, the third place, because I knew that the McLaren was quite quick in the warm-up with full tanks and I knew they will be quicker in the end of the race.
"But it was like this. I could hold Berger. The whole race, the distance was still the same, between nine and 10 seconds. But in the end, I was pushing quite hard because Berger closed up once to eight seconds."
ADVERTISEMENT
Article continues below this ad
Schumacher finished the 1992 season an impressive third in the Drivers' championship. Little did the German know at the time he would be crowned World Champion in the following season.
Schumacher's legacy lives on in the motorsport world through his son – Mick. The young German driver turns 21 today and could make his F1 debut sometime in the near future.