Petchmorakot Petchyindee Defends ONE Featherweight Title in a Controversial Decision at ONE 157
Published 05/20/2022, 11:58 AM EDT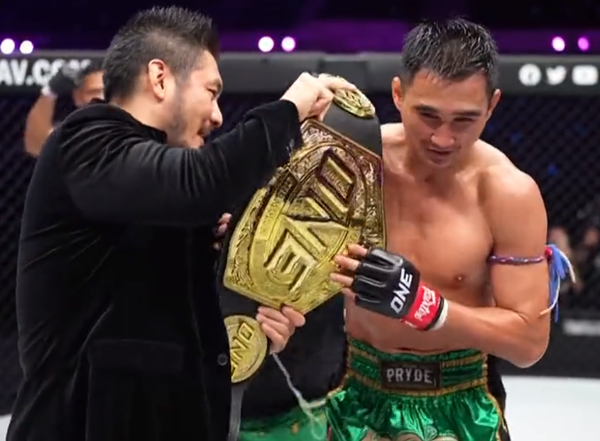 The crazy ONE 157 card concluded with the featherweight Muay Thai World Championship. The champion, Petchmorakot Petchyindee, made a successful defense of his title against Jimmy Vienot.
ADVERTISEMENT
Article continues below this ad
The highly competitive bout saw the champion give it his all to secure a split decision in a contest where the decision could have gone either way.
ADVERTISEMENT
Article continues below this ad
The champion also received a $50K bonus from the ONE CEO and Chairman, Chatri Sityodtong, for his come from behind victory.
With the tough loss, Jimmy Vienot fell to Muay Thai and kickboxing record of 51-22. Whereas, the champion moved to an overall Muay Thai and kickboxing record of 165-35-2.
Round by Round analysis of Petchmorakot Petchyindee vs. Jimmy Vienot
Round 1 saw the challenger using the leg attacks to a great effect, and the champion looked puzzled. In the last moments of the round, the challenger even landed a clean shot to the head of the champion. Overall, "JV01″ looked in control of the round.
Round 2 again saw the domination from the 26-year-old challenger. He continued the wonderful work with his feet and used some beautiful trips to put the champion down on the canvas continuously. Even the second round appeared to go in the challenger's favor.
Round 3 started with a quick trip from the Frenchman. The range of the challenger appeared to bother the champion. However, he tried valiantly to get inside the range and found a little success, only for the Frenchman to use the clinch instead of the range strike to avoid the shots coming from the Thai fighter. This was the best round for the champion, whether he won it or not, was up to the judges.
Championship rounds saw the champion showing his heart at ONE 157
Round 4 saw the champion dropping the challenger in the first 30 seconds. The Thai fighter required this kind of success as the fight appeared to go away from his hands. However, after getting back to his feet, Vienot did decent work to trip the champion and put him regularly on the canvas. With the knockdown, the champion possibly took the round 10-8.
ADVERTISEMENT
Article continues below this ad
Round 5 saw the challenger going back to what gave him early success in the bout, as he was able to manage the distance better. The champion constantly looked for the chin of the Frenchman, whereas his counterpart was content with tripping the champion. The bout went to the judges' scorecard. And no fighter could confidently say they won the fight.
ADVERTISEMENT
Article continues below this ad
When the judges' scorecard was read, the champion edged a split decision to retain his ONE Featherweight Muay Thai belt.
Edited By: Vibhanshu Kumar