Ritu Phogat vs Stamp Fairtex: How Can the Fantasy Fight Look at ONE CHAMPIONSHIP?
Published 09/06/2021, 2:15 PM EDT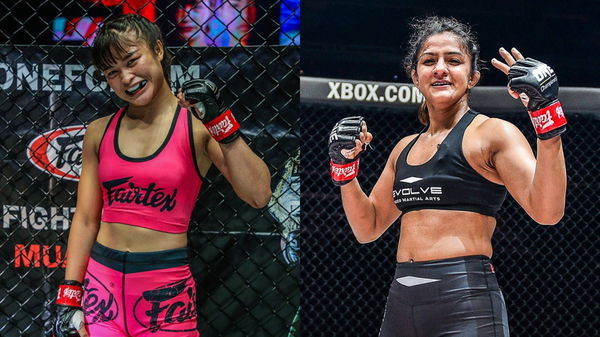 ---
---
Ritu Phogat and Stamp Fairtex have seen several similarities in their respective careers at ONE Championship. From stardom to success, and records, they have umpteen similar traits to share. They even share the status of being role models in their respective home countries. That said, both women are on the brink of earning a shot at the atom weight gold in the coming days.
ADVERTISEMENT
Article continues below this ad
With their recent wins in the quarter-finals of atom weight Grand Prix at ONE: EMPOWER, they are now even close to being compared more prominently. Phogat and Fairtex are both 6-1 as professional martial artists, and can possibly collide in the semifinals of the Grand Prix. However, it's the fans who will decide the semi-final matchups via online voting.
ADVERTISEMENT
Article continues below this ad
Although Itsuki Hirata and Stamp Fairtex have verbally agreed to meet each other in the cage, there are high possibilities of seeing Ritu Phogat go against the Thai star. Phogat and Fairtex come from different combat backgrounds, with their fathers being their first guides. That's another common feature which both women share.
As of now, Seo Hee Ham, Ritu Phogat, Itsuki Hirata, and Stamp Fairtex are the semi-finalists. Given the privilege of fan-voting, these 4 women can collide against anyone amongst them. But let's assume Fairtex and Phogat bag a shot at each other. Not only will it be an intriguing fight. But it will also add a huge legacy to the winner's side. Here's how the fight can look like.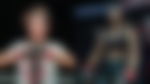 ONE CHAMPIONSHIP Thriller: Ritu Phogat vs Stamp Fairtex?
On meeting fruition, the fight can shock several fans because of the unique features that Fairtex and Phogat possess. Despite sharing several similarities, their combat style can highly differ and leave one of them devastated. Stamp Fairtex, a former kickboxing and Muay Thai world champion, has all the striking abilities to dismantle any woman in her division.
While she is just seven fights old in MMA, Fairtex has had over 80 pro bouts in Muay Thai. She is also the first-ever two-sport champion at ONE Championship. Hence, she is lightning quick on the feet and can offer a formidable challenge to 'The Indian Tigress' if they ever lock horns.
But what if the scrap goes to the ground? Phogat is an A-listed wrestler with gold in Commonwealth, three Indian national championships, and many more achievements to showcase. Hence, wrestling is still the biggest armor in her arsenal. She can rightly outclass Fairtex on the ground. So the fantasy fight will seemingly turn into a wrestler vs striker matchup for the obvious reasons.
Phogat has also displayed sheer progression in her striking while honing herself at Evolve MMA. Besides, the sole loss on Fairtex's career came from a guillotine choke against Alyona Rassohyna. However, Phogat's maiden loss against Bi Nguyen had come via a unanimous decision, which many felt was controversial. And could have gone either way.
So, 'Indian Tigress' clearly has an edge under this parameter. But given the sport's unpredictability and Fairtex's abilities, we can also see Phogat get doomed inside the cage.
ADVERTISEMENT
Article continues below this ad
SEMIFINALS
While Hirata and Fairtex have already agreed on fighting each other if given a chance, Phogat didn't express any preference amongst the three potential contenders. When asked to pick one at the post-fight conference, Ritu Phogat said that she wants to test herself against the best and shall be ready for anyone in the contest.
Watch This Story: 7 Things Anthony Joshua Cannot Live Without
ADVERTISEMENT
Article continues below this ad
Hence, it all comes down to the fans as we expect the best matchups to happen in the semi-finals of the atom weight Grand Prix.