EXCLUSIVE:- ONE Championship Heavyweight Titlist Arjan Singh Bhullar Reveals His Future Plans and Ongoing Training
Published 06/29/2021, 12:59 PM EDT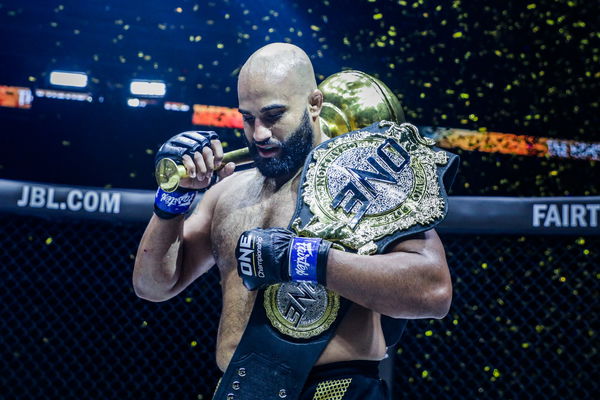 ---
---
Indo-Canadian fighter Arjan Singh Bhullar created history as he took out the veteran Brandon Vera in the headliner of One: Dangal to earn the heavyweight gold. He is the first fighter of Indian descent to have claimed the accomplishment. Furthermore, he is now the best heavyweight in the vicious roster of ONE.
ADVERTISEMENT
Article continues below this ad
While the position calls for extreme prowess, Bhullar seems ready to face anyone from the slot. Starting from a rematch against Vera to going against the new challengers, the AKA prodigy is looking for the biggest challenges. That said, a crossover with UFC also allures him like the ONE kingpin Chatri Sityodtong.
After his career-defining win against Vera, Bhullar has exclusively connected with Essentially Sports to talk about several things regarding his training and future plans.
ADVERTISEMENT
Article continues below this ad
Watch This Story: Five Insane Facts About Mike Tyson
ES:-Hello, everyone. Welcome to today's interactive session with essentially Sports. Today we are privileged to have exclusively the One Championship MMA World Heavyweight Champion Arjun Singh Bhullar with us. First of all, thank you so much for joining Arjan
Arjan Singh Bhullar:- Thank you for having me,  pleasure to be here.
ES:- And you recently had the biggest accomplishment of your fighting career that you became the first fighter of Indian descent to get that ONE MMA gold. So how has life been since grabbing that world title?
Arjan Singh Bhullar:- It's been amazing. You know, it's been life-changing. I've been very happy, very excited, um, and just been celebrating with family, so couldn't be any better.
ES:- So like it was a tough fight that you recently had you outclassed a veteran like he [Vera], and that was really a sensible performance. So was there a point in that fight where you felt that okay, this is getting tough, or I might not be able to do that? Because it was actually a very close fight.
Arjan Singh Bhullar:- It wasn't a close fight. I don't know what fight you watched my man. We were very comfortable. And it was going exactly as we trained and planned. Um, you know, there's a bit of danger in the end of the first, handled it well, at no point was I panicking.
ES:- I mean, Brandon Vera obviously is a veteran. And he, I mean, whenever he steps up to fight here, he has got his plans, right. And obviously, getting into octagon with a former UFC fighter, obviously, you have also have got the experience of fighting in the UFC. But he was a veteran fighter. And people don't necessarily get to put a crack on him. But you could successfully do that. And you could take him to the ground, he could plant his shot. So like, and as he just mentioned, mentioned that everything went as per your plan. So was there an exact point where you felt that Okay, I have got this fight, and I am going to get out as the winner.?
Arjan Singh Bhullar:- Yeah, just all the way through, it was going according to plan. We knew we're going to stand up and win. We knew we're going to take them down and beat him up. And all of those things. So, you know, yeah, he's a veteran, and I wanted that name. And I wanted that head and I got the goal.
ES:- Now, see, you obviously had the big win, and a rematch can possibly be on the line. So do you see a rematch with Brandon Vera, happening somewhere in the future.
Arjan Singh Bhullar:- Say that again.
ES:- Obviously, you had a big win, and possibly Brandon Vera, might come up into the championship right again
Arjan Singh Bhullar:- No problem, he wants to rematch, we can do an immediate rematch. It doesn't matter to me. We'll finish him quicker. We're confident doesn't matter.
ES:-Now we got to see the Prime Minister of Canada, he just tweeted out, he praised your performance. And it was just one such instance. There are several tweets, several fans from all over the world, they came and they praised you. So they also want to know what's next for you. So have you just thought about your first title defense or whom would you like to face next?
Arjan Singh Bhullar:-You know, Know I called out Kang Ji-Won because he has some momentum in the division and until other guys get some wins and get some momentum. He's still the guy in my opinion.
ES:- Okay, that's great to hear. And Chatri Sityodtong. He recently said that he would be interested in doing a crossover with the UFC roster. So what's your thought on that?
Arjan Singh Bhullar:- It would be amazing. I'm down with it. I have no problem. Anybody anywhere pro wrestling, MMA, it doesn't matter. We're ready to go.
ES:- Now, if that actually happens, you'd be going against Francis Ngannou, who is currently having the world title over there in the UFC and looking at his striking power, you really have a great chance because you're a wrestler and you can you will have the chance to take him down and you have already I believe that seen a couple of his fights. So if that fight ever happened, Arjan Singh Bhullar versus Francis Ngannou. How do you see that happening?
Arjan Singh Bhullar:-Hey look, Francis is a very dangerous guy. We share the same agent. I got a lot of respect for him. I wouldn't talk poorly about him. But I fight to win if we are wherever locked in I'd been I would use my wrestling against him what Stipe [Miocic]did the first fight. But he's got a lot of punching power. He's very dangerous, and he's a great champion.
ES:- Now, when he look at one championship, obviously it's doing tremendous things for the world of combat not just MMA has got its Muay Thai bouts. It has got its MMA bouts on it. It is really doing some great work for the Asian MMA. And since you're an Indian hero right now to the world, would you like obviously, you'd like to, I believe, but have you ever planned to come down to India and compete in some fights and if it ever happens, when can he possibly see that?
Arjan Singh Bhullar:- Absolutely. We're coming over there ASAP once the COVID comes down. We're bringing the belt we're gonna do a lot of things out there a lot of things in the fight coming along. I can't wait to come back home.
ES:- Now coming back to your career, Arjan obviously I've accomplished a lot in your fighting career. You have been in a you've been into the Commonwealth series. You have already become a world champion in MMA, and through this whole big fighting career. What does this word title actually mean to you mean? Obviously, you had a lot of accolades. But what special does this worldwide?
Arjan Singh Bhullar:- It means the world to me every other milestone and accomplishment led to this one. So this is the pinnacle of it all. And I'm a world champion, I've never done that before in anything to be one of the best in the world at what you do is a truly blessing. So I'm very grateful.
ES:- I mean, when you were going against Brandon Vera, when the announcement came out, a lot of people doubted you. A lot of people said that you're not going to do it. But at the end of the day, you made it in fashion. So was it a reply to the critics? Or did you just follow up and concentrate on your own game plan?
Arjan Singh Bhullar:- Say that again.
ES:- Like, when the fight was announced, with Brandon Vera, a lot of people doubted you a lot of people thought that Brandon Vera is a legend, and you might not have a chance, but you proved them wrong, you silence them in fashion. So did you ever have this thought that I need to silence my critics or it was just about sticking to your own game plan?
Arjan Singh Bhullar:- No, I don't care about critics, I'm already motivated enough to be the best and to accomplish what I want my life, I've got a beautiful wife and kids that I do it for. And that's all the motivation I need beyond myself. So you know, critics and stuff, it doesn't matter what you accomplish in life, people always point at something. So I don't pay them no attention.
ES:- Obviously now you had a great time. In the past few months, you had a big way. And you had all the success in your life. But at the same time, we were all clutched down by the COVID-19, the entire pandemic outbreak. So how difficult was it for you to maintain your training? Or what was the hardships that you felt as a fighter while going through this entire pandemic?
Arjan Singh Bhullar:- This the longest time I've ever gone without competing. So a year, year and a half, without competing as is, again, that was my biggest challenge. And but I focused on what I can control and that's getting better every day in training and being ready to be the best version of myself when I got the call. And I think we did that.
ES:- Yeah, definitely. You obviously did that, and since the pandemic slowly the situation is slowly getting better. I mean, we can and we have already seen so many events come down to the One Championship is already back in the flow. Can you tell us a timeframe that when we can see you back again in action?
Arjan Singh Bhullar:- Very, very soon, we are working on a few things .We want to talk to the boss, man, and we'll get the contract signed up?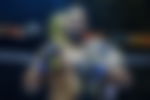 ES:- So how has been like, what are the things that you're doing right, right now after getting the win? And just can you update us about the recent training sessions that you have? Or you are planning to have?
Arjan Singh Bhullar:- This is almost your last question. So we will go over it. And then I gotta, I gotta wrap this up. But I'm just where I'm with family we're working on pro wrestling, locking up that deal. And so we're going to do both. So excited for that.
ES:- Thank you so much Arjan Singh Bhullar. Lastly, this is Essentially Sports Fans perspective, if you want to say something to the fans that has been following you watching you for so long.
ADVERTISEMENT
Article continues below this ad
Arjan Singh Bhullar:- Thank you guys so much. We did it on but we're not done yet. Still keep supporting 1 billion strong.
ES:- Thank you so much. Thank you so much for joining and taking some time with us again. Hopefully, we'll reconnect soon. And all the best for the win big win that you are going to have in the future and congrats for getting that world title. And we hope that you keep retaining it. Thank you so much.
Arjan Singh Bhullar:- Yeah, appreciate it, brother. Thank you. Thank you so much.
ADVERTISEMENT
Article continues below this ad