OTD: Shortest Ever F1 Race in History
Published 11/03/2018, 3:58 PM EDT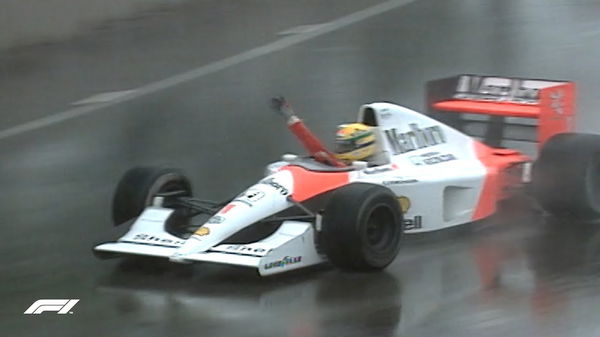 ---
---
November 3rd wasn't a very eventful day in the history of F1, but has a very unique record to its name. The shortest race ever took place on this date in 1991, that is on November 3rd, 1991 in Adelaide, Australia.
ADVERTISEMENT
Article continues below this ad
The race lasted a mere 14 laps – or 24 minutes – because the weather was unbelievably wet. In fact, drivers were against the race happening in the first place, with even winner Senna saying that the 14 laps that happened "wasn't a race".
Senna started on pole for an extremely wet start to the race. There were multiple accidents throughout, including that of three time world champion, Nelson Piquet who was driving the last race of his career. Senna managed a healthy lead up front while all the action was happening behind. Nigel Mansell overtook Gerhard Berger for second position, only to crash out later while Berger himself had a couple of spins. The race was only stopped when Ayrton Senna waved furiously to stop the race. He expressed his anger post the completion of the race as well. Senna was the winner, Mansell declared second and Berger declared third. Mansell didn't make it to the podium because of injuries he sustained during the crash.
ADVERTISEMENT
Article continues below this ad
Despite Senna's furious post race words, the results of the race meant McLaren sealed the constructors trophy.
ADVERTISEMENT
Article continues below this ad
Not just the shortest F1 race, the date is also known for a spectacular title decider of the 1968 showdown between three great F1 drivers.
The 1968 battle involving Graham Hill, Jackie Stewart and Denny Hulme was to be decided at the Mexican Grand Prix held on 3rd November of that year. Stewart had a misfire and Hulme faced a suspension failure, which meant Graham Hill came out on top and took his second championship. The race is particularly known for it leading to cancellation of the Mexican Grand Prix( the decision was reverted back later) after the track marshals had difficulties controlling the crowd and hence the circuit was thronged by the general public after the completion of the race.
ADVERTISEMENT
Article continues below this ad