Ozil the 'musician' a pleasure to watch, says Wenger
Published 12/11/2015, 6:57 AM EST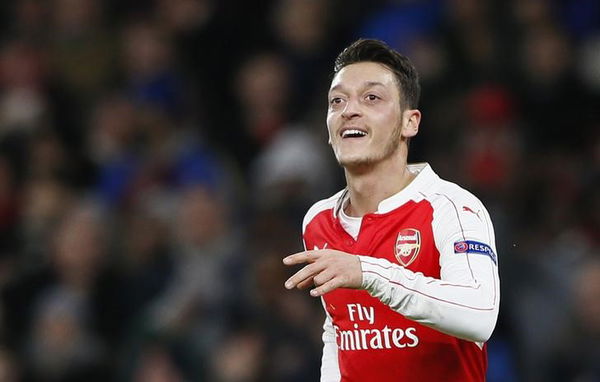 REUTERS – Arsenal's conductor-in-chief Mesut Ozil has been likened to a musician by manager Arsene Wenger, who says the midfielder's sense of timing makes him a pleasure to watch.
ADVERTISEMENT
Article continues below this ad
Ozil has 12 assists in the Premier League so far this season, more than he managed in his two previous campaigns with the Gunners and twice as many as his nearest challengers – Gerard Deulofeu, Kevin De Bruyne, David Silva and Riyhad Mahrez.
"Mesut is like a musician who always plays the right note, and at the right moment," Wenger told the club's website (www.arsenal.com).
ADVERTISEMENT
Article continues below this ad
"His timing is perfect – when he has to give the ball, he gives the ball.
"It's just a pleasure to see. It struck me (on first seeing him) that he was at such a young age, but the boy could time his passing always right. He got out of impossible situations.
"Also what struck me was that it was not forced on an individual basis – the team play was in front of his ego.
"That strikes you because normally when players are that talented, that's not the first quality you see."
ADVERTISEMENT
Article continues below this ad
At the other end of the pitch for Arsenal, Peter Cech has revealed how playing an instrument has helped him become a better goalkeeper.
Cech, who has kept six clean sheets this season, has taken up drumming in his spare time and says his new hobby is especially useful for a goalkeeper.
"There are so many things I learn on the drums that I can use in goalkeeping as well, because the hand-eye co-ordination and the independence on each of the limbs is helpful," he said.
ADVERTISEMENT
Article continues below this ad
"It teaches you to use all four limbs in different ways. You need to find a way to co-ordinate things and, once you learn how to programme your brain to do that, it helps you to co-ordinate even for football."
(Reporting by Simon Jennings in Bengaluru; editing by Amlan Chakraborty)