Pakistan-England lock horns in battle of bowlers
Published 07/15/2016, 3:08 AM EDT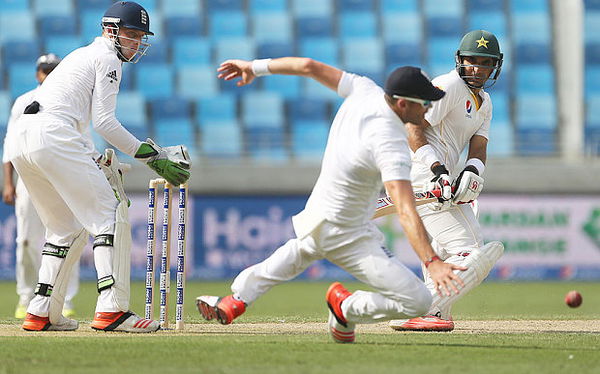 ---
---
Pakistan is ready to take on the mighty England in their backyard in what could possibly be the series of bowlers. Both sides have the ability to be truculent and impeccable when it comes to their bowling line-ups and the fate of the series may well be decided on which team turns out to be more infallible in implicating their plans. It would be Anderson vs Amir and Broad vs Wahab in what promises to be a series of predisposing bravura of swing bowling.
ADVERTISEMENT
Article continues below this ad
But for Mohammad Amir , the challenge would be more mental and within himself than what he faces from the opposition. It almost attains parity to a Bollywood story plot where the hero would have his shot at redemption at the place where it completely disarrayed for him, the last time around. But the stakes cannot be higher for the 24-year-old. After all, it was the mecca of cricket, Lords, that was tainted by his actions and Lords would be anything but overwhelmed to confer him his lost reverence.
ADVERTISEMENT
Article continues below this ad
He must try to placate the storms within and do what he does best, run in hard, unleash his entire wrath and get that red cherry swinging. Because his smallest of mistakes would be under sternest of scrutiny and if he allows the media and public to penetrate under his skin, it may all be over for the Pakistani Lad. He has been sharp and menacing since his comeback and has shown the world what talent world cricket missed for 5 years. So the stakes are high and Amir looks ready. The mecca of Cricket would leave no stones unturned to test the character of the man more than his bowling figures. And every Cricket fan right now would be wishing to see Amir bowl his way out this muddy water.
ADVERTISEMENT
Article continues below this ad
What makes this series more palatable as a Test Cricket enthusiast is that beyond the claptrap of limited over frenzy, you seldom get to see such quality bunch of quicks going after batsmen, in conditions that favour the bowlers. You have Anderson who almost seems incapable of losing any kind of form when he wears a white shirt for England in England. He scalped 21 in the recently concluded series against Sri Lanka and delineated what makes him a quality of the highest order. He has a partner who is much different in style but no less in peril, Stuart Broad. And they are backed up with likes of Woakes, Finn, and Stokes who have the propensity of chipping away with wickets at regular intervals. All in all, it's an envious bowling attack who are adept in using English pace and bounce.
And then you have an all left arm attack in Rahat Ali, Wahab Riaz and Mohammad Amir who are backed up by the leg-spinning option of Yasir Shah. They are a cohort of similar proclivities in their bowling styles and can make batsmen stoop over, with their ability to swing the ball in both directions. Wahab and Amir have enough firepower in their armoury to eviscerate the opposition batting line up and would have a solid support in Rahat Ali.
ADVERTISEMENT
Article continues below this ad
The only thing that would be irking the Pakistani think tank, is that because of their more or less same style, it may backfire them against quality batting line-up of England and that too in their native conditions. They have yoked in Yasir Shah into the mix, who has been in a rich share of form in recent times and has already baffled batsmen 76 times in his short stint on 12 matches in whites. And with leg-spinner already announcing a new type of googly to be unleashed against the Englishmen, it would be interesting to see how much success he enjoys in not so friendly conditions.
Thus high-quality test series has been finally conferred to the Cricket fans and only time would tell how much of an impediment Pakistan would prove to be against the men from England who are unabated champions in their own backyard.