Pakistan get back review after umpiring error
Published 06/26/2015, 11:12 AM EDT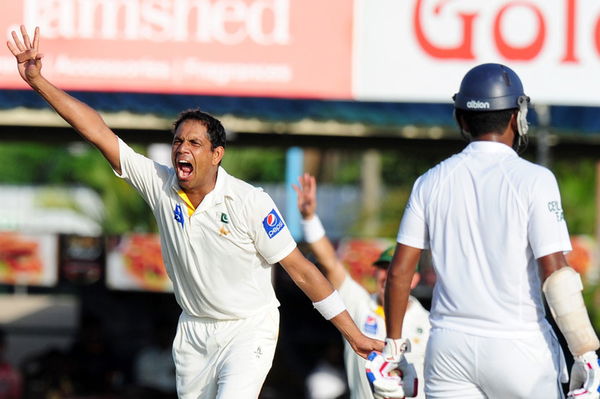 ---
---
Pakistan were given an extra review on day one of the second Test at the P Sara Oval in Colombo, after batsman Kaushal Silva was declared not out due to an umpiring error by Paul Reiffel.
ADVERTISEMENT
Article continues below this ad
On the fourth delivery of the 19th over of the Sri Lankan innings, which was being bowled by Zulfiqar Babar, Pakistan apparently appealed for a bat-pad catch at slip against Silva, but the appeal was turned down by on-field umpire Sundaram Ravi. The decision was then reviewed by Pakistan.
ADVERTISEMENT
Article continues below this ad
Though it appeared that the batsman had not edged the ball (Decision Review System for the series does not feature Snicko and Hotspot), replays showed that the ball had hit the batsman in the line of the stumps, it would have gone on to hit the middle-and-leg stump and the point of impact on the pad was less than three metres from the stumps. But Paul Reiffel did not check for an lbw at that time and Ravi was not asked to overturn his decision.
ADVERTISEMENT
Article continues below this ad
ICC rules on DRS state: The third umpire shall not withhold any factual information which may help in the decision making process, even if the information is not directly prompted by the on-field umpire's questions. In particular, in reviewing a dismissal, if the third umpire believes that the batsman may instead be out by any other mode of dismissal, he shall advise the on-field umpire accordingly. The process of consultation described in this paragraph in respect of such other mode of dismissal shall then be conducted as if the batsman has been given not out.
Pakistan Coach Waqar Younis approached match referee Chris Broad to seek an explanation, but the play had resumed already and the decision could not be overruled.
ADVERTISEMENT
Article continues below this ad
Kaushal Silva went on to make 80 runs in his innings before being run out by Yasir Shah.
The question is, does getting back the review would make up for the runs Silva went on to score after this lapse on umpire's end and the effect this may have on the results of ongoing match?