"Paul Felder and His Family Lost $82,000": Coach Duke Roufus Slams the Judges
Published 02/27/2020, 1:27 PM EST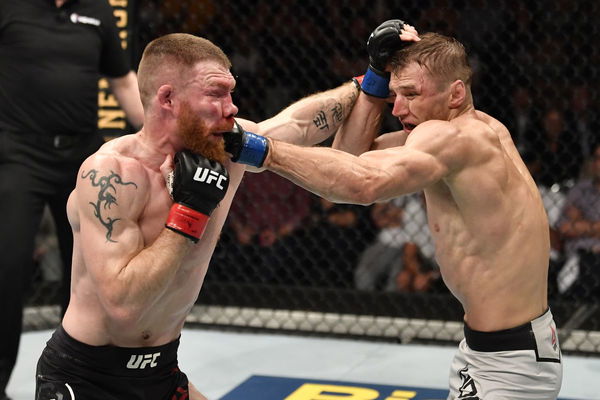 ---
---
Judges have recently been at the receiving end of some serious flak for making faulty judgments, especially after UFC 247. The main event at UFC Fight Night in Auckland, New Zealand comes to mind when one talks about mistakes on the part of the judges. Paul Felder's coach Duke Roufus speaks up on behalf of Felder. He claims that the judges' mistake cost Felder not only the fight but $82,000 as well. The top draw saw Dan "The Hangman" Hooker take on Paul "The Irish Dragon" Felder. Both fighters were trading blows in a very close fight. The fight went on till the 5th round after which Dan Hooker was awarded the win by split decision(47-48, 47-48, 48-47).
ADVERTISEMENT
Article continues below this ad
ADVERTISEMENT
Article continues below this ad
"I don't have much confidence anymore in judges. All these kids, when things don't go well for them and they have a bad performance, they're expected to go to the press conference and give all their answers, all their reasons. Guys like you call me up after a fight and good, bad, or indifferent, I answer your questions as painfully as they are sometimes when we crap the bed as a team. Whereas all the referees and judges they get to vanish into thin air."
-Duke Roufus on the Luke Thomas Show
Duke Roufus Offers Solutions
Paul Felder's long time coach even goes ahead to offer certain solutions to resolve issues of misjudgments. He put up solutions like increasing the number of judges to 5. He advises the judges to look at the game not like fans of the sport but like students of the sport. Duke states that irrespective of their decision the judges get to take away the same paycheck. The fighters are left to suffer.
Legendary referee Big John McCarthy is of the opinion that both fighters lay equal claim to the fight. The fight could have gone either way. Even though Paul Felder was the better fighter in the final round. An undeniably frustrating outcome to a very tight matchup, it certainly raises questions about the quality of judging in the sport we know and love.